While we normally highlight the meanings of flowers, there is also much to be said with special foliage such as myrtle, holly, fir, pine and moss. These are often used in holiday flower arrangements and create a wonderful ambiance that helps set the arrangement apart from the rest. While others are trolling through stores in search of the perfectly generic gift, contact your local florist to create a holiday arrangement that is both unique and meaningful. Holidays mean the world to some people. Show those people that they mean the world to you with these unique gifts.
Holly brings out the fun of an Old Fashioned Christmas!
People of all ages recognize holly as one of the premier decorations of the holiday season. What people don't know about holly is that the primary flower meaning of holly is domestic happiness. It's hard to turn away any opportunity to wish domestic happiness on someone. Another meaning of holly is defense or protection. Holly is the perfect gift idea for wishing a safe and happy household over someone. For that matter, wish yourself a safe and happy household by decorating your home with holly this Christmas.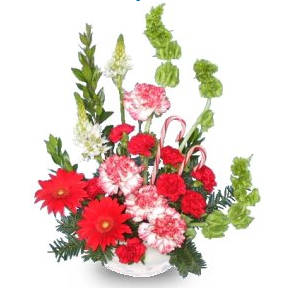 Myrtle makes the Red and White Stripes arrangement a holiday hit!
Myrtle is a widely recognized foliage that is blessed with positive flower meanings. Myrtle may be especially recognizable to Jewish couples as it is a Hebrew emblem of marriage. For other couples, myrtle represents love. It is always a good time to show someone that they are loved by you. Sending an arrangement such as the Red and White Stripes Christmas flower arrangement is a wonderful way to express many wonderful feelings of love, luck, fascination and holiday cheer.
Your local florist can help create majestic flower arrangements, bouquets and even gift baskets for the holidays that use foliage with sweet flower meanings. The best gift idea this year isn't in a store; it's in a flower shop.