It's back to school time again! For freshmen, and even returning students, this can be a stressful time. And let's not for get those poor mamas, who's little chicks are leaving the nest for the first time. Make this time easier on everyone with flowers! Science and research has shown, there is something about flowers that never fails to lift our spirits. Flowers entice almost all our senses at once — the color, the fragrance, the textures — there is just nothing like it!
Dorm Room Flowers
Match Your College Style
Flowers do more than just enhance our mood, their presence in a new place can really make it feel like home. Choose flowers in colors that will match your dorms furnishings. No matter what your colors or style, flowers are the perfect accent to any decor.
Bright

and

Cheery?

Try a bouquet of Gerbera daisies in an array of fun summer colors.

Vintage

Chic? Go for dusty pink roses, old-fashioned baby's breath, and unique garden-flower accents.

Going

Green?

Choose an all-green floral design, with natural branches or willow

Pretty in

Pink?

Choose a variety of flowers all in bright shades of pink, accent with touches of tiny white flowers.
No matter what your style, your local florist will be able to create something specifically-YOU to bring your new home-away-from-home together.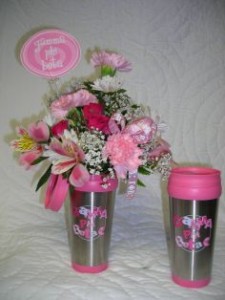 Show Your Team Spirit
Often times florists near colleges carry collegiate gifts and accessories. Have your florist create something to show off your team spirit or Greek affiliations. Have the flower arrangement created in a container you can use afterwards, such as a team-spirit travel mug. You will be able to carry and use your gift throughout the school year and remember those important first days of being on your own.
Make A Lasting Friend – Choose A Houseplant
One more option to adding some 'life' to your dorm room, is to make friends with a houseplant. In most cases, this is the closest thing you'll have in a dorm to a pet. A houseplant is a welcomed companion to dorm dwelling. You can find houseplants that fit with every personality, but for most college freshmen, choose one that is super-easy to care for. You can decorate your houseplants with new containers to match your dorm's decor, and even use it as a tiny Christmas tree for the holidays. Houseplants make great college companions!
Don't Forget Mom!
Back to school time might be even more stressful for mom than it is for students. Her baby is venturing out on her own for the first time. This is a good time for mom to take some time for herself (while keeping that cell phone handy, just in case her baby needs her!) So mom – Have a spa day! Order yourself flowers that are just right for YOU!  Add a glass of wine to this mix, and you'll be just fine mom!
If you have a back-to-school story that involves flowers, share it with us!
Florists, if you're looking for collegiate accessories, FGmarket is a great place to start!