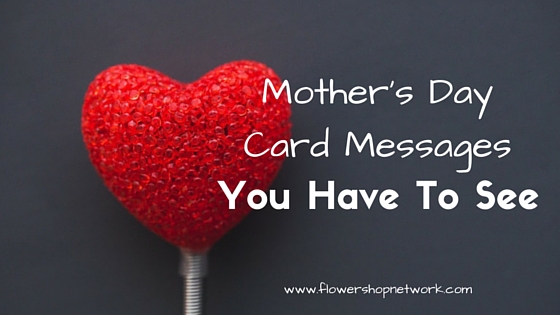 A sweet card message is the perfect compliment to a beautiful bouquet of flowers. We saw many Mother's Day messages with heartfelt memories and hilarious stories, all testifying to the strong bond between a mother and child. Some messages were very creative and some even made us laugh out loud! Take a look at this list of our favorites. 
"Happy Mother's Day, you're the best. For as practical as a person you are, I can't believe you decided to invest in your son's banjo album- ARE YOU NUTS? Ah well, while we wait to see if it pays off here's some chocolates."
"Mom, I can't even imagine how proud you are of me for sending you flowers. Happy Mother's Day. Love you."
"We love you so much and hope you have the most Meow-velous Mother's Day."
"Happy Cinco de MOM-O."
"Happy reminder of how darn lucky we are to have you in our lives Aunt Cheryl! I know God had to pry you out of heaven w/a crowbar to get you down here but I'm sure glad you came. Keep on rockin it. Love you tons."
Did you miss your chance to write a message for Mother's Day? Don't worry, you can try your hand at an awesome card message for Father's Day next week!
Take a look at some of our fun Father's Day arrangements and get to work on a card message that your dad will love!