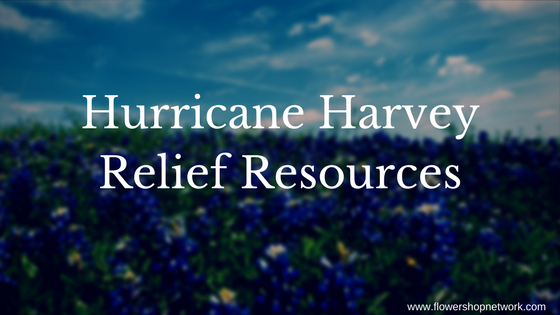 The following is a list of resources for anyone in the floral community who is looking for assistance, and also a list of members of the floral community who are assisting in the relief efforts if you are looking for a way to help the people of Houston who have been affected. We will try to keep this list updated to the best of our abilities.
For Florists
Texas State Floral Association/AIFD
Accepting donations for the Hurricane Harvey Florist Fund. 100% of donations will go towards rebuilding the Texas floral industry.
http://www.aifdfoundation.org/index.php

Greenleaf Wholesale-Houston
 Greenleaf Wholesale of Houston has opened their doors and are allowing florists in the Houston Area affected by the storm access to design and cooler space. Visit their Facebook page for more information.
www.facebook.com/GLWHOU
Florists of Houston- Hurricane Harvey Recovery Facebook Group–
This group is a place to privately talk, network and help all those affected by Harvey. This is a Closed Group, so someone will have to approve you after you click "Join Now." This link will take you there: https://www.facebook.com/groups/1935430526696986/
Florists Helping with Relief Efforts
Scent & Violet- Houston, TX 
Harvey Relief Resource Guide
https://www.scentandviolet.com/hurricane-harvey-info/
Dietz Flower Shop- Seguin, TX
Donation location for needed items.
https://www.facebook.com/dietzflowers/
Sherwood Florist- Sherwood, AR
Through September 2, orders of $50 or more- $5 donation to the Red Cross. Orders less than $50- $1 donation to the Red Cross.
http://www.sherwoodfloristar.com/
Arizona Family Florist/Arizona Flower Market
Accepting donations for most needed items.
https://www.facebook.com/azflowermarket
Patsy's Flowers & Gifts-Cross Plains, TX
Donating 50% of Texas t-shirt and hat sales.
https://www.facebook.com/patsysflowersandgifts/
Bloomers Flowers & Gifts- Harlingen, TX
Donation location for needed items.
https://www.facebook.com/bloomersharlingentx/
Lemon Leaf Florist- Austin, TX
Donating $10 from every online order the Austin Disaster Relief Network's Hurricane Harvey Relief Fund.
http://www.lemonleafflorist.com/
Every Moment Houston
All sales this week and next week will be donated to Hurricane Harvey victims.
https://www.facebook.com/everymomenthouston/
Milan Florist & Peddlers Market- Milan, TN
Donation location for needed items.
https://www.facebook.com/milan.florist.1/
If you are a flower shop that is helping with the relief efforts and would like to be added to this list, please send a message to jamie.woods@flowershopnetwork.com.