Flowers are beautiful at any time of year, and they will be blooming somewhere no matter how cold the temperature gets. With fall weather here in earnest, let's look at a flower to remind us of warmer climes, the beautiful Dahlia!
Origins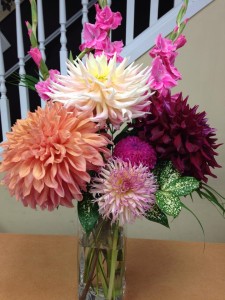 The Dahlia is native to Mexico but is also grown throughout Central America. Its roots were used by the Aztecs as a food source, but though European explorers took the dish home, it didn't catch on. Instead, the beautiful flowers became the only reason European horticulturists had any interest. The tuberous roots are rarely eaten anymore, but the blooms have never lost their luster.
Flower Symbolism
There is no one meaning that encompasses all the dahlia is, and that more than anything else may embody its symbolism. For some, the dahlia expresses dignity and elegance. It can also mean commitment and everlasting bonds, but that's not all. To others, the dahlia means change, travel or even a warning of impending danger. It is also seen as meaning inner strength, creativity and standing up for what you believe.
The Perfect Gift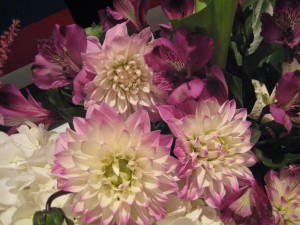 So with all those different meanings, when is a good time to gift someone with a dahlia?
It's perfect for that friend with a bit of a wild side, someone who tempers their adventures with a good heart and good intentions. It can also be given for any of the meanings listed above, it may just be a good idea to verbally express what your intentions were at the outset.
Availability
The dahlia is normally available from most flower shops, but as with any specific flower request it's always a good idea to give the florist time to order some if they don't carry them in stock. After all, flowers are highly perishable items. But don't fret. That ordering process normally only takes a couple of days.
So contact your local florist and order a gorgeous arrangement with the always elegant dahlia!