Each week, florists share pictures of their favorite arrangements they've made on our Facebook, and this is our way to share them with you!
Another great week with beautiful weather for much of the country. With Easter behind us, there was no real theme to the favorite arrangements shared this week, other than gorgeous fresh flowers!  Now on to the pictures!
By Monday Morning Flowers, Princeton NJ
"I love this photo taken by the recipient. She was so happy with her flowers, she posted photos all over the place."
—
By Mary's Flowers in Saint Peter MN
"Our 'Bling Buffet' is up and running and getting a lot of mileage!"
—
By Swannanoa Flower Shop, Swannanoa NC
"Sympathy Flowers"
—
By Flowers By Flowers, Parksville MD
"Here's a pic of centerpieces we did for Easter/Anniversary party. Our customer brought in 2 containers that we 1st used 6 yrs ago for her wedding. (Front & back view > L to R)"
—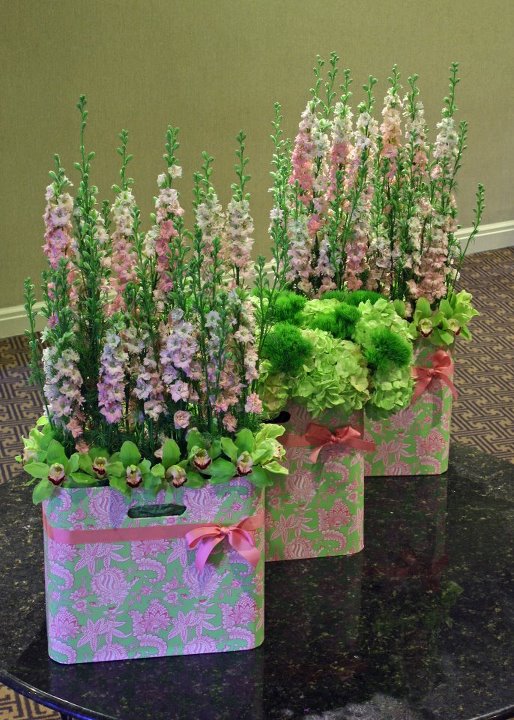 Crossroads Florist, Mahwah NJ
"'Simply Chic' Green & pink flowers are perfect for spring. Pink larkspur, green cymbidium orchids, antique green hydrangea & green dianthus are arranged in patterned gift boxes."
—
Are you on Facebook? Be sure to Like FSN to see plenty more beautiful flower pictures, just like these!
Be sure to come back next Friday for another recap!