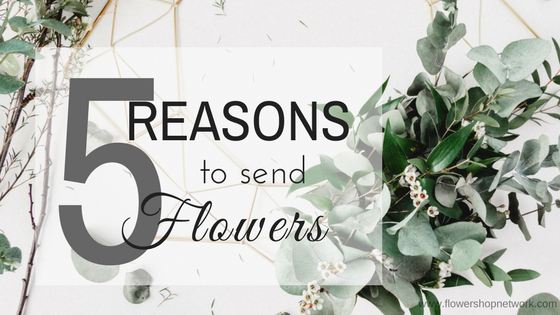 The holiday season is in full swing and many of us are busy preparing for family visits or travel. If you can't be home during the holidays, flowers are a wonderful way to let your family know you are there in heart, if not in person. 
December Birthdays
December birthdays often get lost in the holiday shuffle, especially those that fall on the holiday or in the days immediately before or after. Help keep their birthday special and send a flower arrangement or gift basket.
Hanukkah- Dec. 13th-20th
Do your friends or family celebrate the Festival of Lights? Brighten up their Hanukkah celebration with a blue and white arrangement. Lilies are the traditional flower of Hanukkah and they also look great with silver or gold accents.
National Wreaths Across America Day- Dec. 16th
Remember. Honor. Teach. That is the mission of the Wreaths Across America organization. On the third Saturday of each December, this nonprofit organization works to place wreaths on the graves of fallen soldiers across the U.S. Consider sponsoring a wreath, or purchasing a wreath from your local florist to place on the grave of a local fallen soldier.
Christmas- Dec. 25th
From Poinsettias to Mistletoe, there's something about flowers that make Christmas complete. Bright red flowers and seasonal evergreens make a great centerpiece for the table or a gift for the hard-to-buy-for person!
Kwanzaa- Dec. 26th-Jan. 1st
Red, green, and black are the colors most featured in Kwanzaa decor. Corn is also a big part of the Kwanzaa celebration. For your friends and loved ones who celebrate Kwanzaa, include these elements in any arrangement you send.