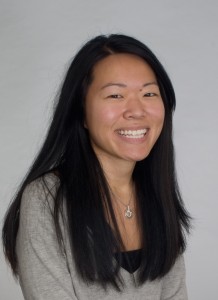 What are some of your interests?
I love being active. Running, cycling, yoga and being outdoors are all things that I love to do everyday. Along with being active, I also enjoy planning parties and spending time in the kitchen, baking and cooking. Trying out a new cupcake or cake recipe each week is a must for me. Also, let's not forget about shopping.
What is your favorite thing about writing for the FSN Bloomin' Blog?

I enjoy writing articles for the Flower Shop Network blog because I like finding out new and interesting facts about flowers. There are so many facts, tips and different ways to use flowers.
What is your favorite flower?
My favorite flower would have to be the peony. I love the gorgeous colors, shape and size that it comes in. I used this flower throughout my wedding and it just reminds of that day too.
What is your favorite reason to get flowers?
I love buying flowers for my home. They are just great accents to have around the house to brighten it up and of course, brings a lovely scent into the home.
What is the best tip for making fresh flowers last longer?
Take special care of your flowers with how you cut the stems and especially take care of the water.
Kelly has been writing for the Bloomin' Blog since 2011.
Kelly on Google+