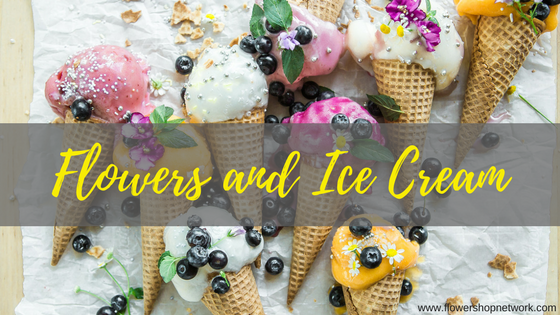 I recently had the pleasure of attending the 2017 Tennessee State Florists' Association Floral Expo. During the show, the association hosted an awesome luncheon filled with some amazing floral arrangements of all kinds. However, there was only one arrangement that really got me thinking, "I need a strawberry milkshake, ASAP!"
The arrangement that I'm talking about was made in a vintage milkshake glass with pink rose petals, white carnations, faux maraschino cherry, and a straw. It seriously looked good enough to eat! From afar anyone would think that the lunch was going to include these delicious looking shakes. Sadly, it did not, but it did get me thinking, what else can someone make out of flowers?
Here are some tasty looking arrangements that designers have made from flowers to look like different types of food.
The first "I'm lovin' it" meal comes from Los Angeles based florist Carly Cylinder of Flour LA. The burger is made from ti leaves, moss, ranunculus, Bupleurum, and gerberas. The fries are made of seasonal branches, and the ketchup is crushed red carnations.
Made for the cover of Kinfolk, Amy Merrick and Patrick Fitzgerald teamed up together to make some almost-good-enough-to-eat flower arrangements. Mixed with actual ice cream, each little bouquet featured is unique!
We've also seen arrangements that mimic popcorn and birthday cakes. These are just a few examples of how fun and scrumptious flowers can look! What are some of your ideas? Have you ever created a tasty looking treat from flowers? Tag us in your photos on Instagram. We'd love to see them!