Contrary to popular belief, a local florist's work can be exhausting and stressful at times, especially for the owner. When is the last time you and your great employees really cut loose and had some FUN?
Research shows that the more FUN you have in your shop, the happier and more productive your employees will be. Here are a few tips you can use to shake things up a bit…
Start small. Make a list of all your employee's birthdays, and really celebrate their big day when the time comes! Here at FSN, we post a flyer of upcoming birthdays in our break room. This is a great way to show you care and make your employees feel special (because they are!)
Have a cookout! For lunch one day, plan a cookout! Bring a grill from home and make burgers or chicken with chips. (For your vegetarian employees, you can get a small 2 or 4 pack of pre-made veggie burgers and grill just like regular patties) If you're not a fan of grilling, have it catered. Either way, little events like these really bring the team together!
Start a "Fun Budget". It doesn't have to be much, but the rewards can be fantastic! Save up a little bit and look for things you and your employees would like to do.
Having fun at work is important. Just look at Google, one of the biggest corporations in the world, inside their headquarters they offer: Foosball, pool tables, volleyball courts, assorted video games, pianos, ping pong tables, and gyms that offer yoga and dance classes. They also conduct grassroots employee groups for all interests, like meditation, film, wine tasting and salsa dancing. Of course I wish all of our local flower shops could install pool tables and offer salsa dancing, but for now a cookout and a few small adventures together will be just fine!
One of my favorite treats we were surprised with at Flower Shop Network was a masseuse! During our most stressful season, our awesome management brought in a masseuse to do chair massages (head/neck) during our break times. We each got a 15 min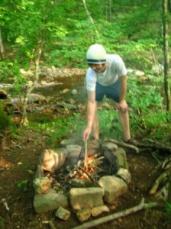 pick-me-up and were able to push through the day with a much, MUCH better attitude. Talk about brilliant!
Some companies plan outdoor excursions like hiking, rafting, floating or canoeing. Outdoor activities can be fairly inexpensive and a lot of fun!! Just getting together for a bonfire and roasting marshmallows will increase your teams bond.
While on these "fun" trips, take LOTS of pics and even video share on your Facebook Page. This will help your followers connect on a personal level with you and your team. It's a great way to advertise the unique culture of your flower shop.