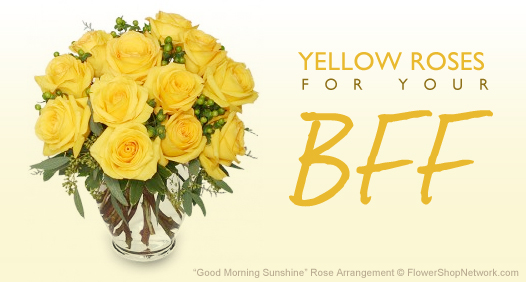 Did you know yellow roses mean friendship? What better way to say "Congratulations," "Thinking of you," or "Feel better soon," than by sending yellow roses to a friend?
Yellow is the color of summer, sunshine, and lemonade. It is a cheery color and has the power to lift us up on dreary days. Surprise your Best Friend Forever (BFF) today by sending a bouquet of yellow roses. It could be that they need a pick me up, or maybe just because they're your friend, either way it's a surprise sure to knock their socks off.
Friends are such important pieces in our life's puzzle; what would you do without them by your side? They've been with you through thick and thin, isn't it time you show how much you care?
Remember, always always always use a verified, local florist when sending flowers. If you don't know yours, use FSN's handy florist finder to find a local flower shop today.