To florists and floral designers, "form" is the word used synonymously with "shape" and refers to either the outline or three-dimensional shape of a flower arrangement. There are two key forms in floral design terms. These are "closed forms" and "open forms." Both are key elements of floral design and are essential to creating beautiful flower arrangements appropriate for any space or occasion.
Closed-Form Flower Designs

Closed form flower designs can best be described as "dense" because these forms lack negative space. That is to say, the floral materials used to create the designs are tightly packed allowing little to no room for light to pass through, thus it is one seemingly continuous piece and consistent shape throughout.
An example of commonly used flowers with closed form designs are Beidermeyer style bouquets and centerpieces. These are very compact rings that together form a small dome shaped arrangement. Because there is little negative space (none) in a Beidermeyer style flower arrangement, these and other flower arrangements with similar styles are referred to as closed form flower designs.
Open-Form Flower Desigsn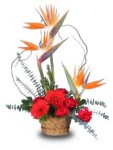 Open form flower designs are the opposite. These are considered light and airy. They have more negative space which may prevent the outline from being fully defined. Not defining the outline allows the design to merely imply a geometric shape.
An example of commonly used flowers with open form flower designs are contemporary arrangements. While there are many closed form contemporary flower arrangements, most contemporary styles focus on the idea of the shape. Rather than present a shape, they present lines (linear flowers) that form unique angles, shapes, and appearances.
Consider placing a light behind both designs and looking at their shadow on the wall. Like mass flowers, closed form flower designs will reveal an easily defined shape. Open form flower designs will produce a shadow that looks like no particular shape, but rather a series of overlapping lines and patterns.