One of the hottest trends out right now just so happens to be vampires… Twilight, Trueblood, Vampire Diaries, the list goes on and on of newly popular vampire shows and movies. With Halloween coming up, why not use this new vampire trend to your advantage!
Easy Halloween Flowers Promotion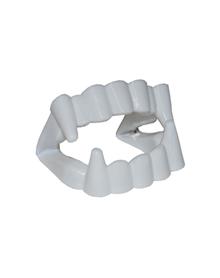 Create a special for your shop called Love At First Bite or something catchy. Use deep red roses and other dark colors, especially black, to create something unique and contemporary. Black, red or silver wire can be used as fun accents. Remember, most vampire fans are going to be around 12-30 years old, so have as much fun as you want.
Shop around your local crafts store for a few cheap Halloween decorations like vampire teeth, small skeletons, or anything black and red. Buy some inexpensive, black fishnet or lacy stockings to use around your vase or as ribbon.
Your vampire-themed floral would be an easy choice for a guy looking send flowers to his Twihard girlfriend.  This design would make a stunning sight at a Halloween party, or a great hostess gift!
To promote your newest special, post LOTS of pics on Facebook. (That's definately where your vampire fans would be!) Also put photos of your festive Halloween flowers on your website. Use your pictures to make a quick flyer to advertise your special and hang them anywhere young people gather. (Local bookstores, college campuses, etc.) Remember to price it reasonably for this younger demographic to keep them flying off the shelves!
Vampire Lovers! If you are a vampire lover looking for flowers like the ones described in this post, call your local florist and recommend this article to them! I'm positive they will work with you to create something drop dead gorgeous (pun intended)!
This post is brought to you by local Salem, OR florists.
Not in Salem? No worries, use Flower Shop Network's handy directory of local florists to find a real local florist near you!