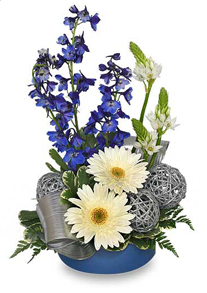 'Silver Bells' Flower Arrangement
Here at Flower Shop Network, we hope you had a GREAT New Years Day! Now's the time to start the new year off right with a beautiful flower arrangement! Flowers are a great way to keep ourselves bright and cheery through the winter. The beautiful delphiniums might be blue, but they are also the perfect cure for the winter blues.
Send this unique winter flower arrangement to your someone special and cure someone of their winter grumps too!
This post is brought to you by local New Haven CT florists.
Not in Connecticut? No worries, use Flower Shop Network's handy directory of local florists to find a florist near you.