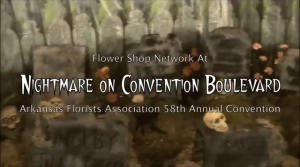 This past weekend was the Arkansas Florists Association's 58th Annual Convention themed: Nightmare on Convention Boulevard. Florist's from all over the area came together to get their 'freak' on— literally, with costume contests, Halloween decorating programs and other scare-themed programs and floral design workshops.
The competition for the coveted Arkansas Cup took place and we are proud to announce that our awesome member Bitsy Carter, from Hope Floral, took home the prize! (More coverage on that later!)
In this video, our rep Cindy talks with upcoming AFA President and local Hot Springs AR florist, Terry Bates, about whats a-buzz at the convention. He also lets us in on the theme for the 2011 Arkansas Florists Association Convention… Watch the video to find out!
This post is brought to you by local Hot Springs AR florists.
Not in Hot Springs? Use Flower Shop Network's handy online directory of real local florists to find your local florist today!