The Enchanted Florist
Welcome to the March edition of the blog spotlight. Our first two spotlights came from the northeast so this month we are featuring a blog from the southwest area of the country. Located in Pasadena, TX, the Enchanted Florist is a full-service florist who has been in business for over 25 years. They offer all the services you might expect: weddings, birthdays, sympathy pieces, corporate functions, etc., and they are more than happy to work with you if you have a project that's a little off the beaten path.
The blog for this florist is written by Tarrah Wright, daughter of shop owner Debbie Wright, AAF, TMFA. Tarrah grew up in the florist business doing every job in the shop from bucket scrubber to flower designer. After attending college to get her degree in marketing, she has once again returned to the flower shop to fulfill her role in the family business. So, without further ado, here is an excerpt from the blog!
10 Weeks of Spray Roses Delivered
10 Weeks of Spray Roses Delivered
Posted on March 1, 2014 by enchantedflo
10 Weeks of Spray Roses Delivered to Your Home or Office
100 stems of spray roses, you know, the cute little ones with a bunch of blooms on each stem. Let us bring you to your favorite location, 1 bunch of spray roses every Monday for 10 weeks this summer. You can keep fresh roses in your home or office all summer long.
Makes a great gift because it's the gift that keeps on giving!
Weekly flowers have a positive influence on productivity in the work place and at home create a happy peaceful environment. (Real research from Rutgers University)
Program Details:
*1 Bunch (10 stems) of spray roses every Monday afternoon
*1 vase of appropriate size delivered Monday June 23, 2014
*Price includes 10 bunches of spray roses, 1 vase, and delivery each week
*Program runs Monday June 23, 2014 thru Monday August 25, 2014
*Spray roses will be delivered to your home or office, must be in our delivery area
*All spray rose bunches must be delivered to the same address
*Save over 20% by paying in full up front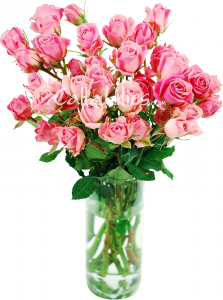 Payment Options:
OPTION 1- (Save 20%) Billed in full on your June 2014 Enchanted Florist statement – $150
OPTION 2 – (Save 20%) Pay by check, cash, or credit card in full by June 23, 2014 – $150
OPTION 3- Billed in 3 installments to your Enchanted Florist statement in June, July, and August 2014 – $190
OPTION 4- Billed to your credit card in 3 installments June 23, July 23, and August 23, 2014 – $190
Roses and spray roses are some of our most popular flowers in the store. So this program is perfect for those rose lovers as well as flower lovers in general. Click here to order online, or call us at (713) 944-4303
Tarrah
Enchanted Florist
Marketing Focus
Tarrah's marketing background shines through in her posts, but that is not a bad thing. Her blog offers value to Enchanted Florist customers and potential customers because she uses it to provide special offers and discounted rates. I want to thank Tarrah for giving us the opportunity to show off her blog, and I'll see you all next month for April's Blog Spotlight!