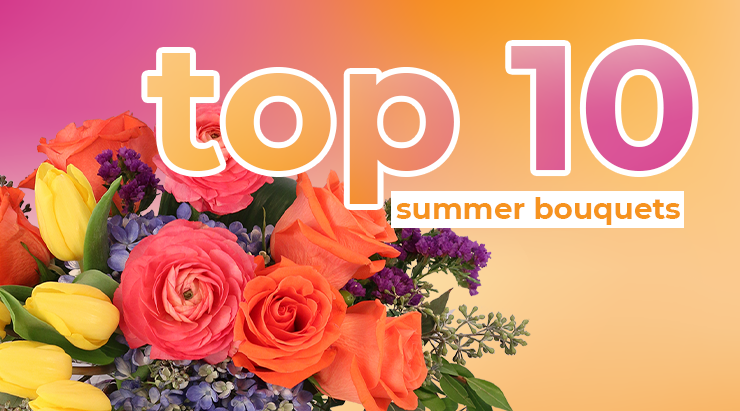 Summer is here and there are so many beautiful arrangements! Flowers are the perfect way to bring summertime vibes indoors. Check out our top ten summer arrangements for 2021:
Crimson Gerberas
This unique arrangement is delicately designed with vibrant red gerberas, lush silver dollar eucalyptus, and pink hydrangeas. Bring the summer heat indoors with this striking bouquet!
Orchid Rose Paradise
Hello, paradise! Featuring stunning High Magic roses, dendrobium orchids, alstroemeria, oncidium orchids, and more, Orchid Rose Paradise brings the tropical summery vibe to any room.
Ivy & Impatiens
This charming basket is full of life! Featuring gorgeous ivy, grand impatiens, divine peace lily, and lovely lotus pods, Ivy & Impatiens is a delightful and alluring mix. Add this enticing basket to your home or office today!
Groovy Gerberas
These groovy blooms are here to impress! Featuring lovely orange, yellow, and pink gerberas, Groovy Gerberas is a bright mix of colors. Make any room bright with this vibrant bouquet!
Free Spirit Lilies
These vibrant colors and cute flowers are full of summer vibes! With Free Spirit roses, orange carnations, hot pink mini carnations, and more, this petite bundle packs a punch. Summer has never looked so good!
Wild Variety
Captivating and alluring, this bouquet is a winner! Featuring gorgeous orange lilies, lovely roses, beautiful purple asters, charming hot pink carnations, and more, Wild Variety is a lively and energetic mix. You can't go wrong with this vibrant flower bunch!
Summer Meadow
Like a soothing breeze on a warm summer day, Summer Meadow is a lovely basket bursting with charming blooms. Featuring beautiful peach gerberas, lavender roses, and pink larkspur, this basket is a perfect summer pick.
Colorful Blooms
This arrangement is as colorful and vibrant as the summer sun! With purple stock, green Fuji mums, orange carnations, pink larkspur, and more, Colorful Blooms is a riot of fun and bursting with color!
Petite Yellow
A delightful little arrangement, Petite Yellow packs an uplifting punch. Yellow gerberas, lilies, and button poms will put a smile on anyone's face! Add some happiness to any room or home with this beautiful bouquet!
Rainbow Madness
With yellow snapdragons, purple stock, pink alstroemeria, yellow lilies, orange and yellow bicolor gerberas, and blue iris, this magnificent arrangement creates a vibrant mix of colors. Rainbow Madness shows all the colors of summer that we love!
These are just a few of our favs! Tell us your favorite one in the comments below and order some summer flowers today!