It's that time of year again when, by tradition, we honor those very special women who have been so important in our lives. While we certainly love and cherish our Moms the year round, Mother's Day for remembering mom with a bit of extra love and attention.
You can't go wrong with a gift of flowers for Mother's Day
Flowers, with their intrinsic and vibrant beauty, are the perfect symbols for the life-giving energy that really defines motherhood. This Mother's Day, florists across the country are well-stocked with beautiful blossoms to help you express your affection.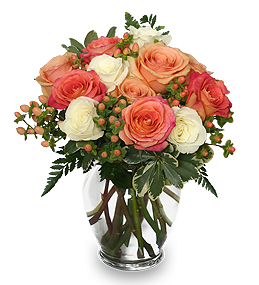 For example, the popular look in flowers these days features rounded blooms with soft, feminine textures in a lush and abundant arrangement. So a simple, clear glass vase filled with such flowers as hydrangea, ranunculus, peonies, and lisianthus , accented with delicate filler materials such as Queen Anne's lace or Misty Blue limonium is sure to delight. Other soft textured flowers include stock, heather, delphinium, lilac and viburnum.
Roses Are A Mother's Day Favorite
Of course, the rose is always a favorite choice of flower for Mother's Day, and May is an especially good time of year for a bounteous selection of them. Add a few of these luxuriant blossoms to any bouquet to give it an extra measure of appeal.
Flowers For The Gardening Mom
Gardening is America's number one hobby, and it remains as a very popular theme for Mother's Day gift-giving. Consider sending Mom a basket of garden flowers arranged in a vegetative style; in other words, designed to reflect how they grow. A vegetative designed arrangement displays flowers in relaxed, vertical groups as though they were growing in a perennial border. Snapdragons, lilies, tulips, and iris work well in this style of arrangement. Special detailing with mosses, branches, and foliages, and perhaps the inclusion of some natural element, such as a bird's nest, completes the presentation.
European-style Dish Garden
A European garden, which is a collection of green and blooming plants placed together into a basket or tray, is another charming way to present flowers for Mother's Day, with the added benefit that the live plants will continue to survive and grow after the holiday. Bloomers like African violets, begonias, miniature roses, and cyclamens can be combined with green houseplants such as ivy, dieffenbachia, and philodendrons, accented with a branch or a flourish of ribbon.
It's been said that it doesn't matter what you give your Mom, as long as it's flowers. Send her a garden of love, full of flowers for Mother's Day, or consult you local Mother's Day florist for other great ideas. But don't delay……it's only a few days away!