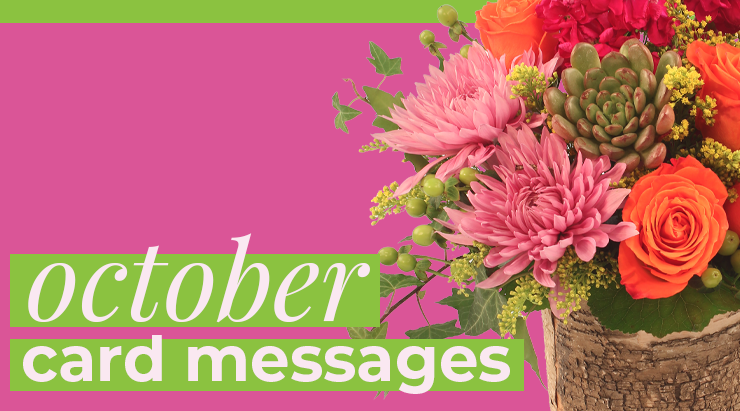 Finding reasons to send flowers this October is easy, but we know that finding the right thing to say can be difficult. We have some card message ideas just for you!
Oct 5- World Teachers Day
Thank you for inspiring me and all of the other students that ever passed through your classroom! Happy World Teachers Day.
We appreciate everything you do for [Your Child's Name], and he/she loves having you as a teacher this year! Happy World Teachers Day
October 16- Boss's Day
Thanks for signing all my paychecks. Happy Boss's Day!
So lucky to have a boss as great as you! Happy Boss's Day.
October 19- Sweetest Day
You're the peanut butter to my chocolate! Happy Sweetest Day. I love you so much!
Wanted to get some sweets for my sweetheart! Happy Sweetest Day. 💕
October 25- National I Care About You Day
I just wanted to let you know that I care about you and I'm thinking about you today!
Thanks for always caring about me the same way I care about you! See you soon!
All Month- Breast Cancer Awareness Month
Sending you big hugs! We are here for you no matter what.
You are one of the strongest people I know. Keep fighting, and I'll be here for you every step of the way. Love you!
You'll find the right thing to say no matter what reason you choose to send flowers this month.