Over the years, Memorial Day has become synonymous with shopping, car races, trips to the lake/beach, family get-togethers, etc. It marks the start of the summer vacation period, and with the hustle and bustle of our day off work, it's easy to overlook the true meaning of the holiday.
Memorial Day commemorates U.S. soldiers who died while in the military service.
Many Americans observe Memorial Day by:
Visiting cemeteries and memorials and placing patriotic flowers on our fallen veterans' graves.
Observing a national moment of remembrance which takes place at 3 p.m. local time
Fly the flag of the United States at half-staff from dawn until noon local time.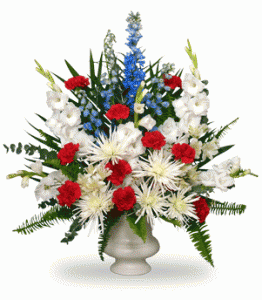 So, how can you enjoy the best of both worlds?
Although it's a significant US holiday, 3 day weekends are scarce in most working American's routines. How can we enjoy our weekend, while keeping in mind the real reason for the extended time off?
First, start your weekend by ordering beautiful red, white and blue flowers to decorate your house. Especially if you are planning a Memorial Day BBQ or block-party. Use your patriotic florals as your table centerpiece or buffet table decoration.
During your celebration, have everyone take a few moments of silence to remember our fallen soldiers. Turn the music off, and make sure you have everyone, including the kid's attention. Have each guest recall memories of fallen veteran family members and friends, such as a grandfather, aunt or uncle. It's good for us to remember our past veterans and the contributions they have made for all of us. Children especially need to see respect and honor given to those who have given their lives to make our country safe for us to live.
After your celebration is over, take your patriotic flowers and flags to decorate the grave of a veteran friend or family member as a perfect ending to your Memorial Day celebration.
Make this a tradition in your family.