Flower Romance Consists Of More Than Roses!
Yes, roses are traditionally considered the most romantic flower.
However, this isn't always the case. Though it seems hard to believe, many men and women do not care for roses or favor other flowers more highly.
When you're in a pickle about which romantic flowers to get your sweetheart, don't be discouraged. Try these ideas instead:
Choose A Flower With A Significant Meaning
The instant joy felt when receiving flowers is a memory not quickly forgotten. Often, parents send their children the same type of flower each year to celebrate a birthday, special occasion or Valentine's Day before boyfriends and girlfriends enter the picture.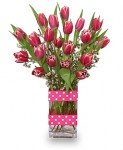 Carnations, orchids, tulips, daisies and other popular cut flowers are given as tokens of love and affection on these occasions. Growing up with those memories, the flowers sent are revered through adolescence and into adulthood.
When considering Valentine's Day gifts, anniversary flowers, or birthday flowers this year, do your best to learn if a particular bloom has a special significance to your sweetheart.
Instead of the traditional "because it's expected of me" gift, your sweetie will enjoy the "it's truly because I care" gesture. The little things go a long way, and this is the "extra mile" sort of gift that will dazzle.
Select Fresh Flowers With Special Meanings
The sweetest thing someone can do for their lover is to personally select the flowers that go into a romantic bouquet. Taking the time to learn about flower meanings, flower color meanings and personal significance to the recipient is the most amazing part of any gift. When ordering a romantic flower bouquet from your florist, consider the following flowers. Each has a special flower meaning. (Hint:  Include the flower meaning on the card and watch her eyes light up!)
Holly = domestic happiness
Larkspur = beautiful spirit
Lilac = first love
Orchid = delicate beauty
Red Tulip = declaration of love
Yellow Tulip = hopelessly in love
Talk with your florist about using flowers with significant meanings. The best gift of all is the gift that shows how much you care.
Romantic Flowers She's Sure To Love
There are some fresh flowers that never fail. Many of the flowers below are sent on Valentine's Day in lieu of roses. Their beauty and prowess has withstood the test of time. When considering which flowers to include in your Valentine's Day bouquet, consider flowers like these:
Carnations — Carnations are a very popular Valentine's Day flower. Their feminine form, wide color variety, long vase life and enticing fragrance astonish happy sweethearts on the year's most romantic holiday.
Orchids — Orchids, a high-quality, premium cut flower, are always fine options for romantic bouquets. Orchids are graceful, beautiful, colorful and bring a bouquet to life. Orchids can be used in contemporary bouquets or traditional designs; whatever you wish! Use the lofty reputation of orchids to show your sweetheart that she truly is the finest person in your life.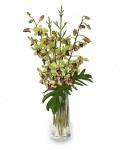 Lilies — The lily will never go out of style. Callas,'Stargazer lilies', Asiatic lilies and 'Casa Blanca' lilies are permanent fixtures on many florists' shelves. The immense beauty of a 'Stargazer' lily makes it the perfect addition to any romantic bouquet. If showy and white is more to her liking, ask your florist about using calla lilies, Asiatic lilies or 'Casa Blanca' lilies.
Tulips — Tulips are not just for the Dutch. Tulips are a very beautiful, romantic flower that are often sent to show delicate, but firm beauty. Tulips come in many colors, each with a significant meaning. Send yellow tulips to declare that you are "hopelessly in love" with your beloved. Red tulips are a "declaration of love." Pink tulips show "caring."
Iris — There is no flower more instantly enchanting than the iris. This beautiful flower can be any color from a deep purple to a beautiful blue. Iris means "friendship and hope; inspiration." What better way to say that after all these years, your sweetheart is still your best friend?
Daisies — Yes, the daisy. Daisies, which mean "innocence," are wonderful, beautiful flowers that fill the room with joy. Any time of the year, but especially near Valentine's Day, daisies are a great choice for your romantic bouquet.
Pick A Color, Any Color!
When flower meanings are lost on your sweetheart, instead try sending a romantic bouquet filled with flowers of her favorite color! This will show (1) That you're paying attention, (2) That you cared enough to ask for a specially-colored bouquet and (3) That you're the man of her dreams for a reason. Choose a color below, then speak with your local florist about using flowers in that color scheme. For a quick hint, popular cut flowers in that color are listed as well.
Red — Roses, tulips, daisies, carnations, gladiolus, peony, anthurium.
Orange — Daisy, chrysanthemum, gladiolus, tulips.
Yellow — Sunflower, daffodil, daisies, carnations, tulips, peony.
Green — Hydrangea, orchids, 'Fuji' spider mums, button poms, 'Jade' roses, mini carnations, 'Midori' anthurium, bells of Ireland.
Blue — Delphinium, iris, larkspur.
Purple — Iris, larkspur, daisies, African violets, gladiolus, hydrangea, orchids.
Pink — Hydrangea (ask about availability), daisies, carnations, roses, tulips, peony, orchids, anthurium.
White — Asiatic and 'Casa Blanca' lilies, callas, daisies, roses, carnations, orchids.
Still Confused? Your Local Florist Has All The Answers!
Don't forget to give your local florist a call. He or she is a flower expert and will help you send the PERFECT bouquet for your wife, husband, daughter, aunt, sister, grandmother, niece, best friend, girlfriend, "almost" girlfriend, and any other loved one in your life. For the best advice and the freshest flowers, call your local florist today!