Growing up can be tough. Though I was blessed to have an amazing childhood, there are many emotions you cannot live without experiencing. The bittersweet hurt of a crush on a boy who does not feel the same can seem like the end of the world to a young girl. Luckily, I had a hiding place where I could really find the truth I was looking for: truth by the ole' "he loves me; he loves me not" game.
Stopping to Smell the Roses…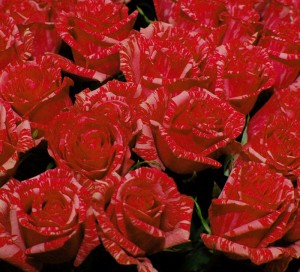 My mom worked hard on her roses in the backyard, so to really know the truth about my 7 th grade love, I had to be sneaky. I would walk outside in my backyard. So what did I do? I would venture to my Secret Place in my own backyard, using an arbor in the back corner. It was decorated with mom's prize roses, and sat right beside the roof. After finding a spot where my hands could get a good grip (without thorns), I could pull myself up on top of the arbor.
The best view of the sunset was just over the trees, and I was almost there. There, I would gather as many petals my hands could hold and I would begin my climb quietly onto the roof. My mother was always a stickler to my climbing routines; being caught was not an option. As I reached the peak, I could slow down. I had reached my destination.
A Whole New World
My Secret Place might have been on the rooftop of my house in small-town Lonoke, Arkansas, but from the view of  the peak, I was in another world. I was Scarlett O'Hara in "Gone with the Wind." I was Elizabeth in "Pride and Prejudice." Most importantly I was a rebel without a cause. I would spend hours on the peak watching the sun slowly make its way down the sky for the night. Those were times I did not need music. I could create it in my head, humming while rubbing rose petals between my thumb and index finger repeating "he loves me; he loves me not" until the results came out to my liking.
Before the sun fell to darkness, I would slowly make my way down the roof. Giving the rose petals one more squeeze, I would release them with all the left-over stress of middle school, and head for the door.
My Secret Place Today
Several years down the road, I was graduating, my parents were moving to Dallas, TX and my house would be put up for sale. Of all the memories I have from growing up in that house the one thing I miss the most is my mother's prize roses, and the lessons they taught me. I should not be picking apart flowers, but receiving them instead. The wait was well worth the love I have now.
Are there flowers that remind you of home? Recreate old memories by planting them, buying them for yourself or sending to a friend. Memories can last a lifetime; it just takes someone or something to rekindle the spark.