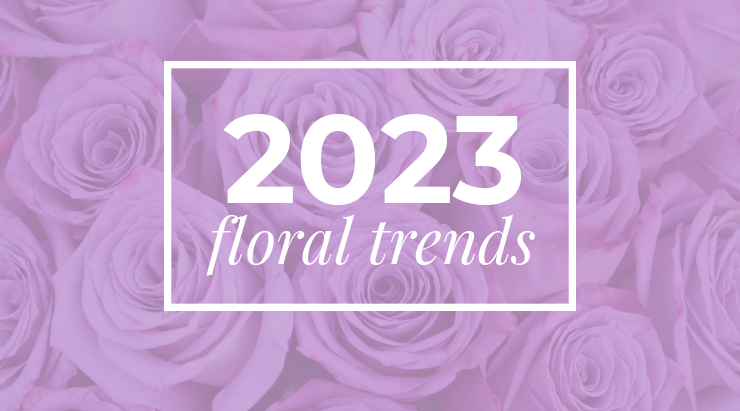 It's the new year and you know what that means! New year, new trends. Check out some of our favorite predictions for 2023.
Wild & Free
Rustic vibes and wildflowers have been a favorite for quite a while, and this trend isn't going anywhere anytime soon. From wedding florals to home decor, wildflowers offer a unique variety that adds a beautiful contrast to the trending modern/neutral color palettes we are seeing all over. Use this trend to add pops of color to any space with flowers like hyacinth, delphinium, tulips, and chrysanthemum! 
Purple, Please!
Purple is a timeless color that can be used to create a wide variety of styles. Soft lavenders can help you create a delicate, romantic look when paired with other muted colors such as pastel pink and white. Deep purples can help you create something bold, and adds a certain elegance to your arrangements. No matter how you indulge, you won't go wrong with adding a little purple to your palette.
Asymmetry 
There's beauty in the imperfect—flowers are no exception! Flowers are the perfect way to express yourself, add shape and fill dead space, or just add a pop of color. The best part of these arrangements is that each one is unique in its own way. This standout trend is one of our favorites for that reason.
Dried Florals
The possibilities for this trend are seemingly endless. Go bright and bold or stay in trendy neutrals. Either way, you can't go wrong! Dried florals are easy to maintain and look fabulous in any setting. Mix them with fresh flowers, or popular greens like eucalyptus, to create a beautiful contrast and take advantage of the boho and garden styles we're seeing a lot of. 
We hope you join us in making flowers your new year's resolution! All of these trends are great ways to keep everything lively and fresh. Be sure to ask your local florist how you can use these trends to elevate your floral decor!