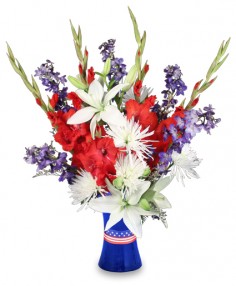 Blue skies, white clouds, and red hot grills mean July has started off right this year. With the height of the hot summer season rolling in, remember to refresh with flowers! There are so many fantastic hot-weather blooms available and here are some great reasons to send summer joy:
#1 – Independence Day – July 4th
It's America's birthday and time to celebrate! Along with lemonade, homemade ice cream, and anything barbecued, flowers are a sparkling addition to every party or gathering. An arrangement in the middle of the table makes your whole event more festive without much effort at all.
Flowers can serve as a great reminder of the reason we don the white, red, and blue. Our nation battled for its independence and won! Don't these lilies, mums, and gladiolas look like perfect flower fireworks?
#2 – Show Your Summer Love
Do you have a summer sweetheart? Sending flowers can make a big impression in a budding relationship. Maybe you want to rekindle the affection of your long-time partner? Remind her than your love is in full bloom with a gorgeous arrangement packed with the very best the season has to offer. The summer growing season has so many bright exciting colors, textures, and fragrances to choose from.
To take advantage of seasonal flowers, ask for combinations of these sun-loving varieties:
Gerbera
Sunflowers
Zinnia

#3 – Parents' Day – July 28th
Sure, mom and dad get their own individual day in spring, but Parents' Day honors them both. Celebrated on the fourth Sunday of July, this relatively new national holiday started in 1994 by President Bill Clinton for "recognizing, uplifting, and supporting the role of parents in the rearing of children."
It is also quickly becoming a favorite day for families celebrating non-traditional parents because it focuses more on the team effort of parenthood instead of singling out only mothers or fathers. Show your parents they raised you right! Treat them to an arrangement bursting with color or a fruit basket to enjoy while they sip iced tea on the porch.
#4 – July Birthdays
Have family or friends with a upcoming July birthday? Show them how much you care with a lovely arrangement. Make it more personal by ordering their favorite color. Not sure what color would be a hit? Select the traditional July birth flower – consolida. Sometimes called larkspur, this flower symbolizes a strong bond of love, is very closely related to delphinium, and highlights how special this month is to your recipient.

Each color variation carries its own meaning as well.
purple – first love
white – happiness
pink – fickleness

#5 – Bastille Day – July 14th
Feel a little closer to the bright Paris lights and join in one of the biggest celebrations in France! Bastille Day is the French National Day that commemorates the first anniversary of the storming of the Bastille in 1789. Considered an important symbol of the uprising of the modern French nation, Bastille Day is a time of flag-waving parades, outdoor activities, and firework displays.
There are many similarities between this holiday and the American Independence Day. Both countries are honoring their historical revolutions and holding up their own versions of the red, white and blue.  Honor a friend's French heritage by surprising them with some flowers on July 14th.