TULIP
Scientific name: Tulipa
Use: Flower
Type: Bulbous Perennials
Height: 4-27″'
Astrological Flower: Aries (Mar 21 – Apr 9)
GROWING
Planting Zones: 4-6, adaptable to 7-8, and 9-10 grown as anuals
Soil Requirements: Sandy soil is best for tulips  to increase and flower in later years. Good drainage is essential. For best results plant bulbs in October or November.
DESIGNING
Stem: 8-32″
Blossom Size: 2-5″
Texture: Satin

Silhouette: Solid/ Cup
Vase Life: 3-7 Days, keep growing in vase
Colors: Single, Mixed, or Variegated. Reds, Oranges, Yellows, Yellows/Greens, Red/Purples, Purples, Whites/Ivories, Pinks
Bloom Season: Spring
Flowers Available: Year Round
No flower can claim as interesting of a history as the tulip. Did you know it was the worlds most coveted flower … twice? That's right! Before Holland's Tulipmainia they were the crown jewel of the Ottoman Empire. They even hold the record for the most expensive single flower in history.
The characteristics of the tulip are unmatched; beautiful, and completely unique – it's no wonder so many places around the world dedicate festivals and events to them, even now.
HISTORY OF TULIPS
Although we think of Holland when we hear tulips, the craze really started with the late Ottoman Empire. To them it was a sign of indulgence and was very popular among court society. This time in Ottoman History is known as the Tulip Period. Everything they did was influenced by the tulip: lavish art, architecture, even the standards of dress incorporated the tulip somehow. Markets in Istanbul overflowed with tulips – not just the plant, but silks, sculptures, textiles – everything was tulips!
The tulip craze spread quickly to Europe where the Dutch really took it to a new level.
The Ambassador to Turkey gave a collection of bulbs to  Flemish Botanist Charles Clusius who was the first European to cultivate the plant. The craze began almost instantly. A flower that could actually withstand the harsh winters and dry summers, it seemed perfect. Clusius' personal garden was robbed and over 100 bulbs were stolen.
Prices of tulip bulbs skyrocketed! From seeds tulips can take 7-12 years to bloom, you needed a bulb. The demand for these bulbs was unheard of. In 1635, just 40 bulbs sold for 100,000 florins. A skilled laborer of that time only made 150 florins a year! And if you still need more proof these prices were outrageous, 1 florin today would be over $16 in U.S. dollars.
It's no wonder everyone was trying to get in on this get-rich-quick phase. Everyone was trying to breed their own unique version that would be the next big hit.
The most expensive tulip ever to exist was the Semper Augustus. It's rare variegated pattern was too good to be true. The unique stripes on the petals were actually caused by a serious disease known as "Tulip Breaking Virus." Tulips with this virus were actually more expensive than ever!
In 1637, the high demand abruptly came to a stop  and the short-lived 'mania' quickly ended as the market fell into shambles.
The plants with the breaking virus have all been eliminated now days. Tulips today sold as 'breaking' are a result of breeding, not a virus. Most of the varieties created in this time were also lost, but the love of tulips still remains in flower-lovers. There are hundreds of tulip and tulip-related festivals throughout the world and they remain one of the favorite flowers amongst growers.
TYPES OF TULIPS
1. Single Cup-Shaped – the traditional look of a tulip, cup-shaped with a single set of petals and tepals. (6)
2. Double Bowl-Shaped – bowl-shaped tulip with a double row of petals or more.
3. Goblet-Shaped – tulip shaped like a fluted glass; slender top to a round thick bottom.
4. Fringed – single or double bowl shaped with 'fringe' or rough edges.

5. Long, Slender-Tepalled – complex form of tulip with twisted petals and tepals.
6. Star-Shaped – rounded petals in an open bloom.
These are only the most basic classifications of tulips … there are hundreds, if not thousands of styles, colors and other variations that makes this a truly amazing plant.
Tulips make the perfect cut flower. Not only do they look great in vases they KEEP GROWING! There is even a type of vase – tulipiere (seen above) made specifically for tulips during tulipmania. Although these aren't very popular today, these vases were a staple among the European elite in the 17th century.
EXTREME TULIPS
Tons of festivals are held every year in honor of the tulip as well as Dutch heritage. The largest of these is in Canada, believe it or not.
The Canadian Tulip Festival stems from World War II, the Dutch Royal Family took refuge in Canada. In 1943, Princess Margriet was born in Ottawa and the Canadian government declared the land around the hostipal to be extraterritorial, or no country, to ensure the princess would inherit Dutch citizenship. The Royal Family have sent tulip bulbs to Ottawa for the festival every since. Over 600,000 of people attend the annual event each year.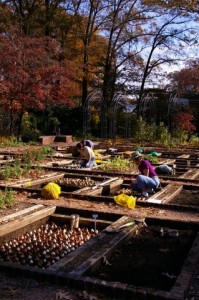 There are also many gardens who do extreme tulip events.. The closest one to us is the Dixon Gallery and Gardens in Memphis TN. They are having a 10,000 tulip event set to bloom in March. Very exciting to see what types of tulips they've planted. I'm sure we will visit it and have lots of pictures to show when the time comes.
And what tulip post is complete without this little number …
Are there any extreme tulip events where you are? Leave a comment below and let us know!
Send these romantic tulip arrangements to your sweetie on Valentines Day!