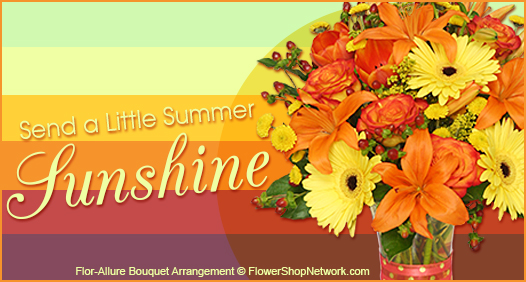 Summer is a beautiful time of year, and that makes it the perfect time for flowers!
As the temperature heats up and Mother Nature spreads her wings, florist shops are filled to bursting with beautiful summer blooms. It's the perfect time to stop by and pick up a creative arrangement for your significant other or even for yourself. After all, there's nothing like fresh cut flowers adorning your breakfast table or sitting by your bedside when you wake. So head on out to your local florist shop and pick up some summer sunshine!
---
Best Reasons to Send Flowers in July
Summer is finally in full swing and July offers plenty of excuses to have a good time. Besides the perfect weather, cool breezes and backyard barbecues, here are five additional excuses to shower your loved ones with flowers!
#1 – Parent's Day – July 27th – Yes, we've already had Mother's Day and Father's Day, but Parent's Day celebrates "the role of parents in the rearing of children." So let your parents know they reared you right with a lovely bouquet or other arrangement.
#2. July Birthdays – Do you have a friend or loved one with a birthday in July? There is no better way to say, "Happy Birthday" than with a gorgeous arrangement from your local florist. You can get most anything you like, and they can even create it based on a theme of your choosing!
#3. Summertime Fun – All Month Long – If the reasons above don't satisfy your need for fantastic florals, don't forget to celebrate the beauty and fun of summer. Flowers make some of the best decoration, and no backyard barbecue is complete without some fabulous floral accents.
Continue Reading Best Reasons to Send Flowers in July!
---

Don't Miss Out On Parent's Day!
Parent's Day is the fourth Sunday in July, and that means it's just around the corner. Don't miss out on your opportunity to honor the ones who raised you with a beautiful arrangement from your local florist!
Continue reading Don't Miss Out On Parent's Day!
---
Facebook Friday: June Favorites
We provide a Friday recap of all the wonderful posts and pictures from active florists on our Facebook Page. It's been so much fun seeing all the completely different designs every day. We hope you enjoy these favorites and continue through to see more from each Friday this month:
| | | |
| --- | --- | --- |
| Hopper Hill, Victor, NY | Flowers and More, Fresno, CA | Crow River, Hutchinson, MN |
| Klamath Flower Shop, Klamath Falls, OR | Paradise Valley, Scottsdale, AZ | Frey Florist, Providence, RI |
See all Facebook Recap pictures in these posts:
---

Flower Spotlight: Hydrangeas
The hydrangea is a beautiful flower that can be found all over the US during the spring and summer months. It is native to eastern Asian countries such as China and Japan, but it grows well throughout the Americas. The hydrangea is normally a shrub growing about three to nine feet high with lovely blue, pink and even sometimes white flowers.
---

Flowers: The Perfect Gift for Any Occasion
It's your mom's birthday!
The next door neighbor just had a baby!
You're invited to a backyard barbecue!
These or any number of other life events, celebrations or parties happen everyday. And what do they have in common? What one thread wends through them all? The need to bring a gift, of course! When just showing up isn't an option, what do you do?
Read more about Flowers: The Perfect Gift for Any Occasion
---
FLOWER CARE TIP
Do not place your arrangement near fruit or in the path of cigarette smoke. The ethylene gas is detrimental to many flower types.
More Flower Care Tips
WE'RE SOCIAL!
Love flowers? Follow us on the above Social Networks! We are always sharing the latest articles from our Bloomin' Blog, as well as the most fascinating news on the net!
You Might Also Like
July Blog Spotlight: A Touch of Class Florist We are joined this month by A Touch of Class Florist in Havana, FL, owned by Edna Hall. This blog is the most simple of all we've spotlighted before, but no less effective for all of that. So, without further gilding the lily, here's the blog!
15 Hot Summer Flowers Summer begins Saturday June 21st. If you enjoy having seasonal blooms on your table or in your home, check out this list of some of the most popular summer flowers available June through August. Your florist may not have all of these on-hand every day, but they should be available if you give her a couple days notice.
An FSN Baby Shower! FSN's SEO Specialist and blog contributor Kelly Wheatley and her husband Bart are preparing to welcome their first child! (The doctor tells us it's a boy.) And Flower Shop Network was excited to honor them with a baby shower. Don't worry, we aren't going to leave you without some excellent photos of the event. So sit back, relax and enjoy!
A Black and White, Long-Hair Cat Walks into a Floral Shop … No, that's not the start of a bad joke, it's the opening line of a beautiful story.
Help make Flower Shop Network's monthly newsletter even better! Got questions? Have an idea for a story? With your help, we can make the FSN newsletter just what you want and need. You can drop us a note in the comment section on the blog or email us at social@flowershopnetwork.com. We can't wait to hear from you!