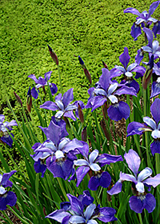 Every spring, I begin the process of taking stock in my garden. What survived the cold winter? What areas just need sprucing up or an extreme makeover? Then, I head to my favorite nursery and begin my annual indulgence—plant shopping! The color I gravitate to most is purple—from pale periwinkle to luscious lavender to deep, velvety jewel tones.
Purple adds drama and mystery to my garden. I add yellow, pink and white flowers to add contrast and lighten the palette. To create great focal points with intense color, I combine shades of orange or gold in front of a swath of purple blooms. My favorite color combination is combining a punch of chartreuse with deep purple—talk about eye candy!


Below are some of my favorite purple blooms:
Balloon Flower or Chinese Bellflower

(Platycodon) is a perennial plant known for its large, showy blossoms that resemble hot air balloons right before they open. The plant forms in clumps and each stem bears bell-shaped flowers in pink, purplish-blue and white. Grown in full sun or partial shade, they bloom throughout the summer.
Easy to grow, the striking

Bearded Iris

is a drought-tolerant plant with blooms in a rainbow of colors. Grown from rhizomes, these perennials blossom in spring, although there are summer-blooming irises. The blooms are large, showy and make a great backdrop in your garden.
Harbingers of spring,

Crocus

are one of the easiest bulbs to grow. Best planted en masse, these perennial flowers grow in full sun to partial shade and are ideal for naturalizing. With minimum growing conditions, they will reward you with a profusion of colorful blue, purple, yellow, white, orange, and even variegated flowers.
| | |
| --- | --- |
| Grown from bulbs, Gladiolus have multiple blooms on long, sturdy stems. These sun-loving plants come in a wide array of colors and make great cut flowers. I'm always amazed that Gladiolus bulbs are so inexpensive—I've purchased a bag of 100 bulbs for as little as $12! And yes, I managed to plant all of them! | |
| | |
| --- | --- |
| | Globe Thistle(Echinops ritro) is a striking perennial that requires full sun and is very drought-tolerant. Perfectly round flower heads bloom on tall stems with spiny-edged leaves. Fresh or dried, they make great additions to bouquets. |
Delicate

Larkspur

flowers bloom on tall stately spikes and are a staple in cottage gardens. Members of the Delphinium family, these annual plants produce beautiful blooms in the spring. Started from seed after danger of frost, larkspur plants like full sun to partial shade and are easy to grow. Lovely in any bouquet, they come in dark pink, blue, rose, lavender and white.
| | |
| --- | --- |
| | Liatris (Liatris spicata), also known as Gayfeather or Blazing Star, thrive in the heat. These perennial flowers have thick-stemmed stalks that sprout feathery tufts of pinkish-purple or white flowers in mid-summer. Liatris will attract Monarchs, Swallowtail butterflies and bees to your garden. Good drainage and full sun make this an easy-to-care-for plant that adds a vertical element to your garden. |
| | |
| --- | --- |
| Pansy (Viola x wittrockiana or Viola tricolor hortensis) are generally cold-hardy, grow well in sunny or partially sunny areas, and can be grown as annuals or biennials, depending on your zone. They bloom spring through early summer, and some varieties bloom in the fall. And just like this gardener—pansies can't withstand the heat of summer! These compact, low-growing beauties are great for edging, tucking into rock gardens and are great container plants. | |
| | |
| --- | --- |
| | The fragrant Sweet Pea (Lathyrus odoratus), an old-fashioned favorite, is native to the Mediterranean. Their sweet fragrance gives these annual climbing plants their name. There are also bush-like varieties available. Easy to cultivate from seed, they come in blue, pink, red and white, and make great cut flowers. |
Other flowers that come in shades of purple include: Love-in-a-mist, Snapdragon, Freesia, Zinnia, Coneflower, Aster, Hyacinth and Lilac.
Purple plays well with virtually every color in your garden's palette. Uplifting, calming and regal, no garden should be without it!
Your local florist can incorporate several of these flowers in any flower arrangement you send.

Cindy Dyer is a freelance graphic designer and photographer in Alexandria, Virginia. Visit her blog at www.cindydyer.wordpress.com and view her botanical gallery at www.cindydyer.zenfolio.com. She can reached at dyerdesign@aol.com. Gladiola, Larkspur and Sweet Pea photos © istockphoto.com. All other photos © Cindy Dyer.