Get rid of those pesky mosquitoes so you can finally enjoy a nice evening outside! Keep reading to see what natural plants and flowers are pros at keeping mosquitoes away.
Marigolds
Marigolds are known to repel mosquitoes and even rabbits. Marigolds prefer full sunlight so place your potted plants near open entries to your home. Marigolds contain a compound commonly used in insect repellents called, Pyrethrum. Not only will this plant work as a great barrier for your outdoor spaces but it will be beautiful addition to your home.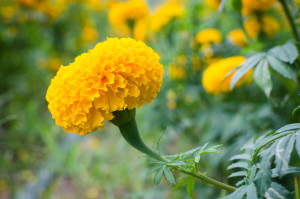 Lavender
The sweet scent of lavender is pleasing to our noses but works as a strong deterrent for mosquitoes. This herb is also known to repel fleas and moths. Some people even make their own natural insect repellent with lavender leaves.