Ask The Expert: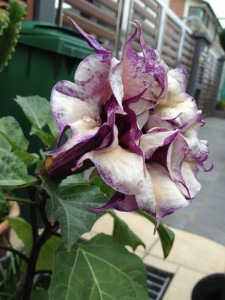 Could u please help me to identify this flower? Approximate 5 -6 inches long. During night or cool day it open very wide but seems close up during hot day. I live in tropical country.
Zoey
________________________________________________________________
Flower Expert Reply:
Sorry Zoey, for the delay in my reply.
It is hard to tell from the side photo, but I believe the flower is a type of Datura. Most likely a Datura fastuosa. This tropical plant is considered a tender perennial in zone 9-10, and it is commonly referred to as a Devil's Trumpet. Although this plant is beautiful, it is also toxic! Keep pets and small children well away from this plant.
I hope this information was helpful.
Please let me know if I can help with anything else!
Thanks,
Jamie Jamison Adams