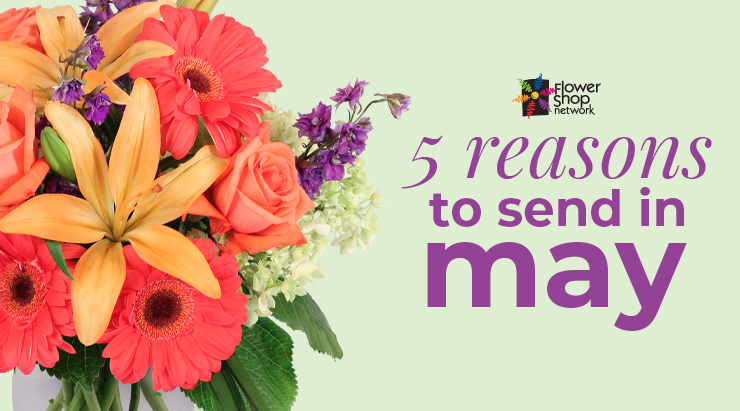 May is the perfect time to send colorful spring flowers. After all, April showers bring May flowers! There are lots of reasons you can send flowers this month, but we've narrowed it down to just a few that would make great occasions to celebrate with flowers.
All Month – Graduation
For all schools from kindergarten to college, most graduations happen in May. Your grad has worked hard to reach this milestone, and deserve to know you're proud of them, so send your congratulations to them with an arrangement of beautiful blooms!
May 6 – National Nurses Day
Nurses work long hours to make sure their patients' stay healthy and happy. Let the nurse in your life know how much you appreciate their hard work by sending them something to brighten up their shift. A gorgeous bouquet is certain to make them feel special!
May 7 – National Teacher's Day
Everyone has that one great teacher who made a difference and impacted their life. Teachers play such an important role in our society, and this day is meant to give them the thank you that they deserve. Send flowers to show your appreciation to your favorite teacher from the past, or to your kid's current teacher.
May 12 – Mother's Day
When thinking of May holidays, Mother's Day is, of course, the one that comes to mind for most people. For most, our mothers are one of the most important people in our lives— one who has been there for you through all the ups and downs of your entire life. Be sure to celebrate your mom this year and send her flowers to show her how much she means to you.
May 27 – Memorial Day
On Memorial Day, we remember all those who lost their lives while serving in the United State military. Send a patriotic themed arrangement in memory of a fallen hero to their family. They're sure to feel comforted and will appreciate you taking the time to remember those who served.