Flower Shop Network recently enjoyed a trip to the 2008 Arkansas Florists Association Convention in Hot Springs, Arkansas. Florists attending displayed their designs, network with other florists, and learn more about the latest tips and trends in the floral industry. While visiting the Flower Shop Network booth, visitors were given the opportunity to win either a free premium listing in Flower Shop Network's online directory of florists or a complimentary website package to accommodate a directory listing. A drawing was held Monday, August 18 to determine the winners.
Flower Shop Network would like to congratulate DeAnna Allgood at The Morning Glory Flowers & Gifts in Lake Village, Arkansas on winning the complimentary premium listing. The premium listing includes a one-year membership to Flower Shop Network. Located in Lake Village, AR, this florist also delivers to Eudora, Arkansas as well as Dermott, Arkansas.
Congratulations to Carrie Skolarski at Buzy Bee in Ozark, Arkansas for winning the complimentary website package. Each e-commerce enabled website allows the holder to receive orders via the Internet. Customers also gain 24-hour access to information about the flower shop such as contact information, delivery location information, flower arrangement design styles and more. The Ozark, Arkansas florists at Buzy Bee also delivers flowers to these cities: Coal Hill, Arkansas; Cecil, Arkansas; Charleston, Arkansas; and Altus, Arkansas.
Each convention is a fun time for florists as well as Flower Shop Network representatives. Annual florists and flower shows are great times to renew friendships as well as make new friends in the floral industry. Joe Hays, one of the network coordinators representing Flower Shop Network, returned the day after the show with a particularly amazing story of goodness and generosity from one of Flower Shop Network's kind friends in Walnut Ridge, Arkansas.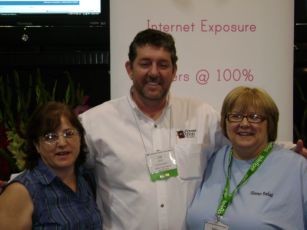 Rhonda Sade (left), Joe Hays (center), Karen Williams (right).
Read how Karen Williams florist's disaster turned into a benefit for the community.
It is easy to make quality friends such as Karen Williams of Flower Basket in Walnut Ridge, AR who met Ms. Rhonda Sade at the conference and immediately became friends. Ms. Sade is a floral designer for Northwest Arkansas Florist in Fayetteville, Arkansas. She, along with many others at the convention, was taken by the outgoing nature and shared interest in flowers of Ms. Williams. These kinds of connections are common occurrences at the annual florists conventions which is why Flower Shop Network proudly attends these conferences each year.
Flower Shop Network also visited the Texas State Florists Association Convention in July. Congratulations to Nora Anne's Flower Shop in Sugar Land, Texas who won a complimentary one-year listing in the Flower Shop Network online directory of Sugar Land, Texas florists. Nora Anne's Flower Shop also delivers flowers to: Southwest Houston, Texas; Missouri City, Texas; Richmond, Texas; Rosenberg, Texas; Stafford, Texas; and Meadows Place, Texas.