We have a great weekly recap in store for you today! This week was Administrative Professional's Week so many of our florists' favorite arrangements were from bosses saying, "Thanks!" to their staff. There are also a lot of great prom corsage (yes it's that time of year!), plus weddings, events and more! Keep reading to see the pictures!
Any Day Flower Arrangements
Thank You for Your Time by Baker Florist & Gifts, Spencer NY
"This was a huge hit for Administrative Professionals Day!"
—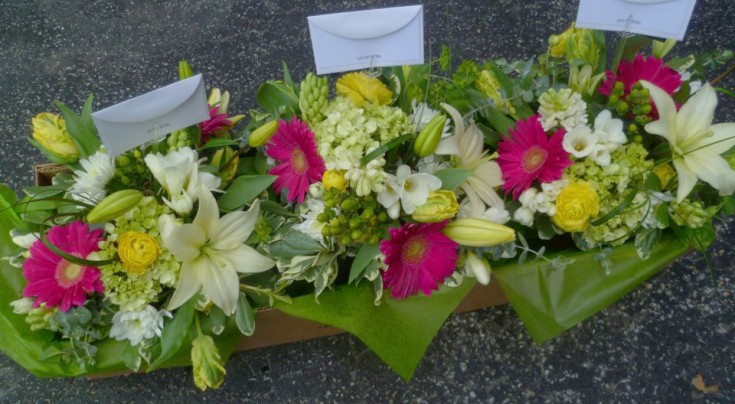 Administrative Professional's Day flowers by Paisley Floral Design, Manchester NH
"3 vases of appreciation for administrative professionals! Delivered to customer's home so he could hand deliver himself!"
—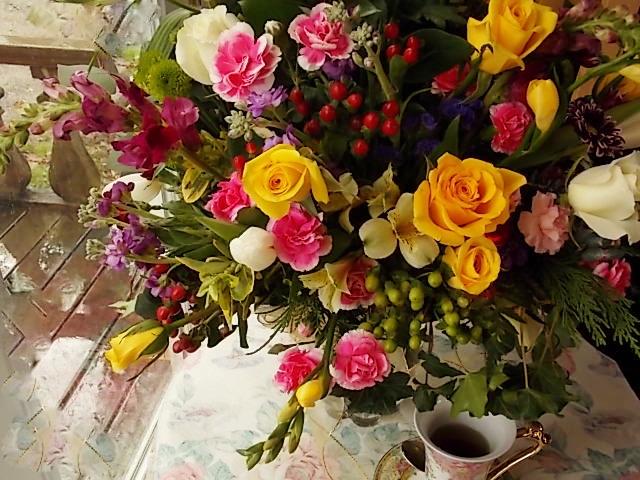 Flower arrangement by Charm's Floral of Asheville, Asheville NC
"Ahhhh… Pretty flowers & good coffee!"
—
Lilac flower arrangement by Richard Salome Flowers Inc., New York, NY
"French pave style arrangement in lovely lavender."
—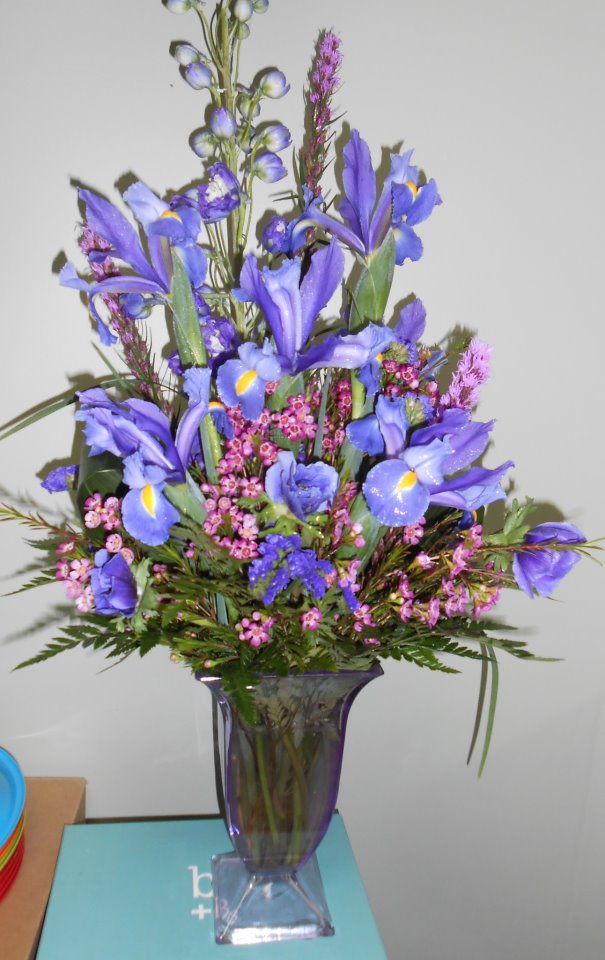 Iris flower arrangement by Magnolia Blossom Florist, Magnolia AR
"This is Magnolia Blossom Florist's favorite arrangement! Gorgeous purples!! Made by floral designer Chelsey Moody!"
—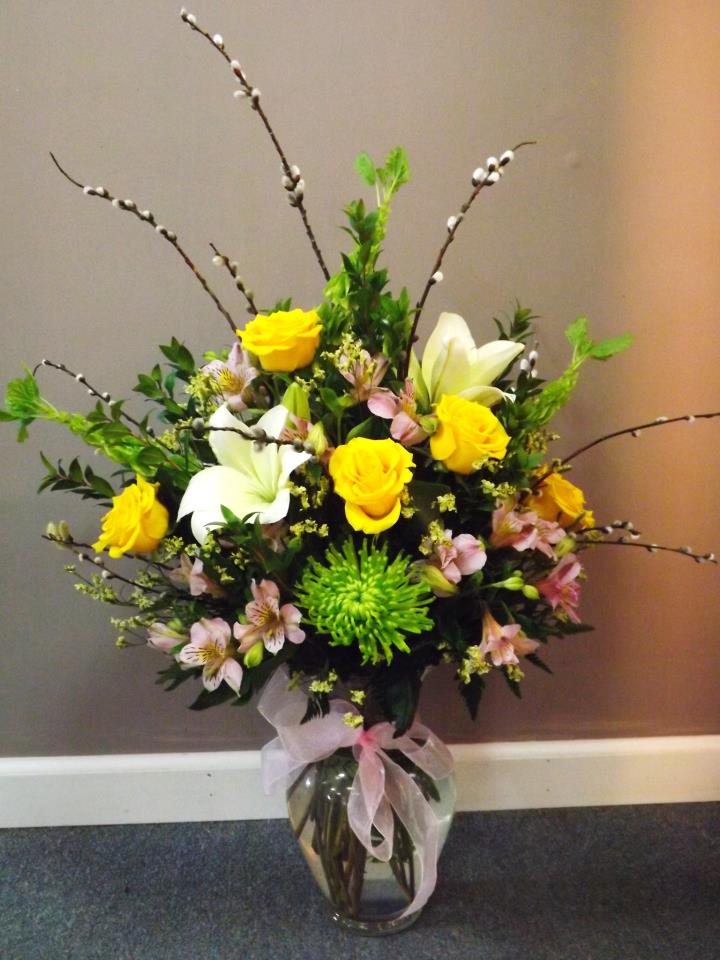 Cute spring design by Flowers ABK, North Windham CT
—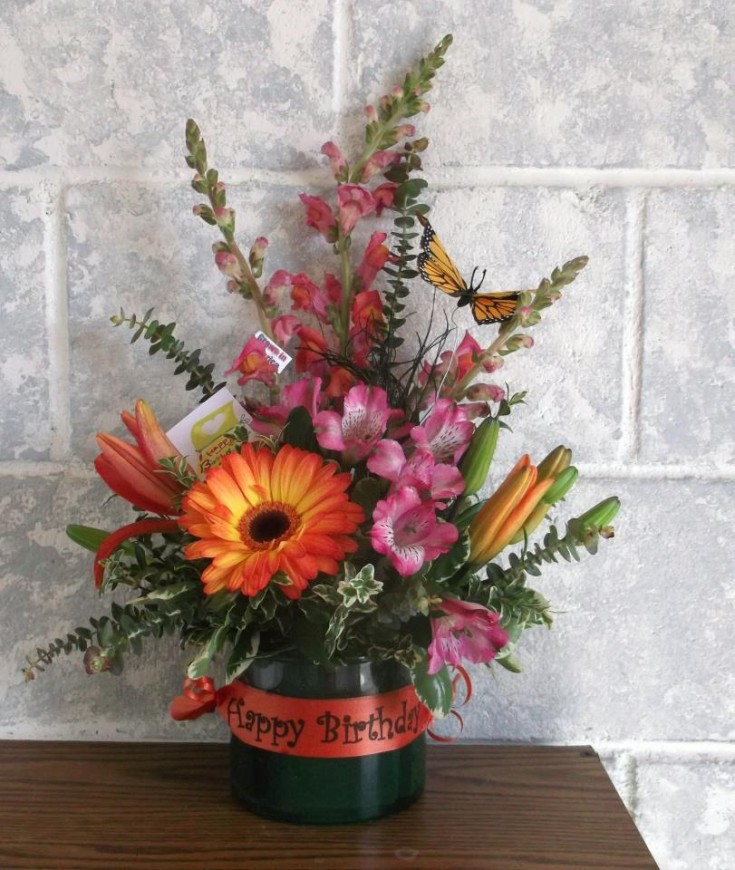 Birthday flower arrangement by A-1 Flowers & More, Cottonwood ID
"Birthday Arrangement"
—
Any day flowers by Expressions Floral Design Studio, Columbus OH
"Saying thanks a bunch…with a great big bunch of flowers."
—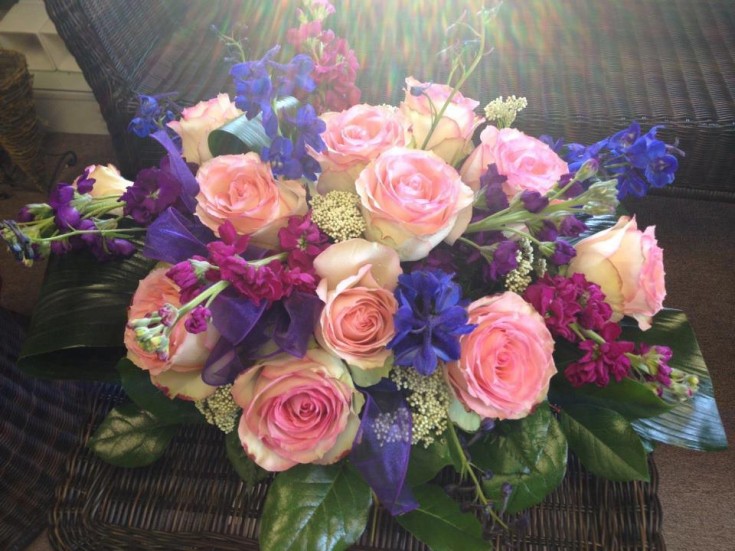 Flowers by Floral Boutique, Cherry Hill NJ
"Birthday arrangement."
—
Springtime florals by Marina's Flowers, Staten Island NY
"Spring is finally here!"
—
Prom Flowers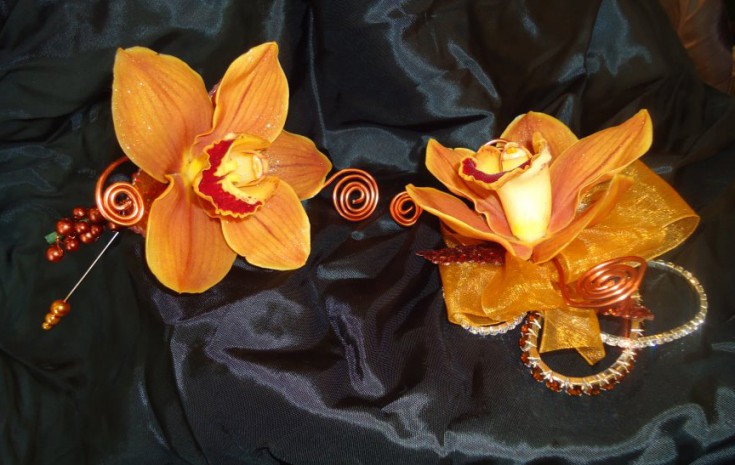 Orange prom flowers by Alma Blooms, Alma WI
"Cymbidium orchid wrist corsage and matching bout by Nancy at Alma Blooms"
—
Yellow daisy prom corsage by Back to the Fuchsia Florist, Saugatuck MI
"It's prom time around Back To The Fuchsia!!"
—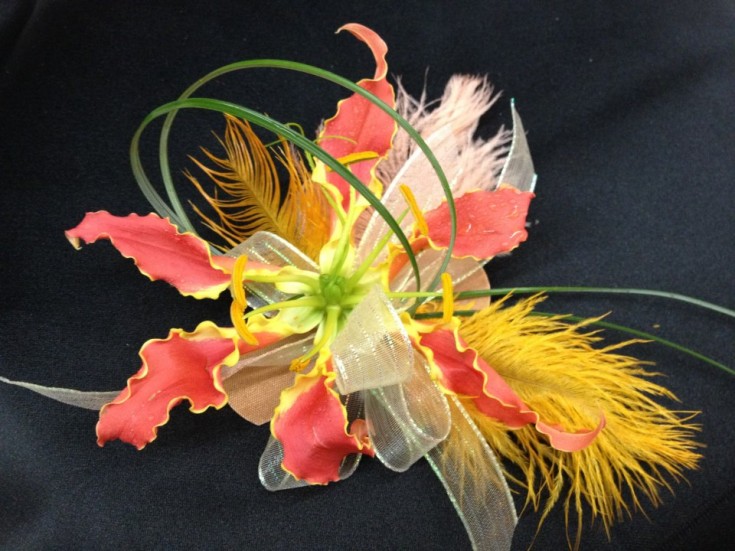 Creative prom corsage by Flower Patch & More, Bolivar MO
"Corsage done on a Band-Aid to accommodate a strapless dress (customer didn't want a wrist corsage). Using a gloriosa lily, the piece was practically weightless."
—
Wedding & Event Flower Photos
Pastel wedding bouquet by Forget Me Not Florist, Northampton MA
(Photo by DFP Photography)
—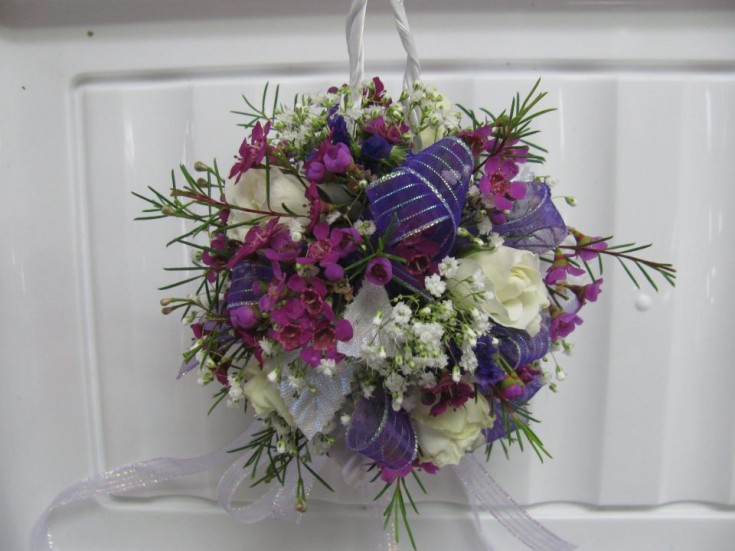 Purple & pink pomander by A'Bloom LTD, Walkersville MD
"Thanks to Bowtied Designs pre-made corsage bows/backs, we were able to come up with a new quick and efficient way to create a pomander for a 4 year old flower girl!"
—
Wedding flowers by Bliss Extraordinary Floral, Sedona AZ
"So proud to be a part of Flower Shop Network's florists!"
(Photo by Brides for Brides Photography)
—
Wedding centerpiece by Flower Boutique, Cherry Hill NJ
—
Librarian wedding flowers by Crossroads Florist, Mahwah NJ
"Lovely flowers for a spring wedding. The bride is a librarian and her bouquet (bottom) incorporates paper flowers she made out of pages of a book."
Bottle Garden by Crossroads Florist, Mahwah NJ
""BOTTLE GARDEN" by Tom Kenison AIFD -These pink & green cardboard hampers are a treasure I found at a garage sale ($1.00 for both) Continuing the color scheme, I erected river cane frames in green and a carpet of green flowers along the top of the hampers. "Vintage" pink bottles are suspended from the frame with pink aluminum wire and filled with smiling pink gerbera daisies."
—
Wedding flowers by Blooming Art Floral Design
"Buffet table arrangement."
—
Wedding bouquet by MaryJane's Flowers & Gifts, Berlin NJ
"This is actually a topper for a wedding we did but never got a picture when it was on one of the 24″ vases."
—
Sympathy Tribute Flower Photos
Sympathy flowers by MaryJane's Flowers & Gifts, Berlin NJ
"This piece went to the home after the funeral…"
—
Pink sympathy flowers by Bev's Floral, Parowan UT
"Pretty in pink."
—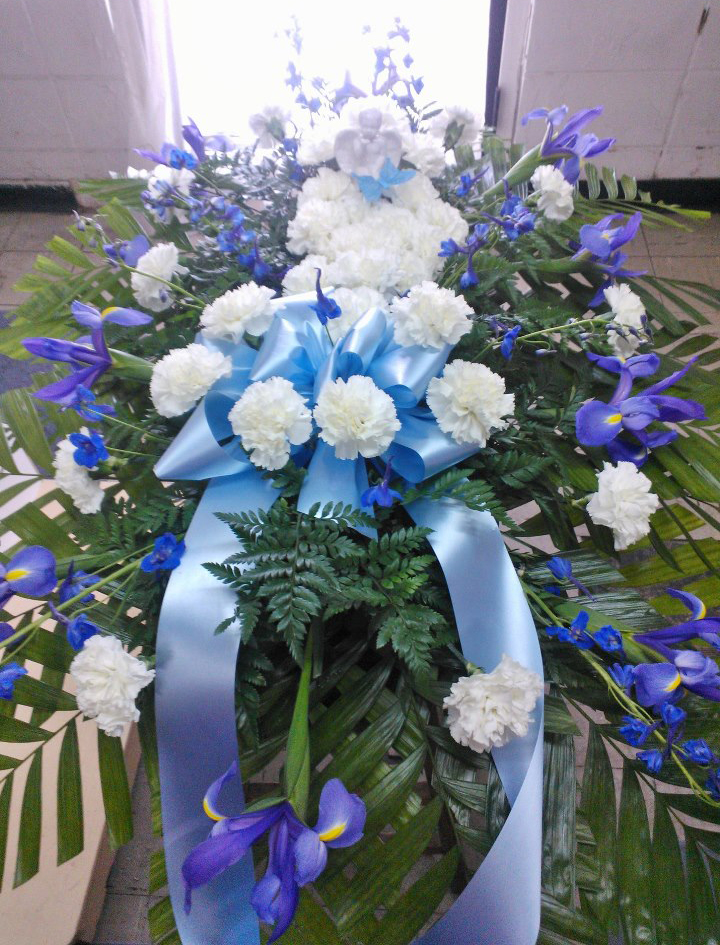 Blue casket spray by Wilma's Flowers, Jasper AL
—
Sympathy flowers by Devine Designs, Fulton NY
—
Frog sympathy flowers by East Meadow Florist, East Meadow NY
"Custom sympathy tribute. My customer's mother loved frogs."
—
 What will next week bring? Who knows! Be sure to like us on Facebook for even more beautiful floral designs. If you're a florist, we want to feature YOUR favorite design of the week right here on Facebook Friday Recap! Click here to see past recap posts!