Top 5 June Flowers to Put You In The Mood for Summer

5. Lilies


Lilies are popping up all over the place. This little beauty makes the list for being the most common of the June flowers. Why? Most lilies are able to survive with little care and are drought tolerant plants. This has enabled the lily to 'escape' and grow everywhere as if they were wild.

4. Calla Lily


Calla lilies' bloom color may be pink, violet/lavender, dark purple/black, or white/near white. With this many variations, you're sure to find one to complement any occasion. Calla lilies are very popular wedding flowers right now. Dressed in white and elegant — just like the bride!

3. Gladiolas

These were always my dad's favorite garden flowers. Sometimes called the sword lily, these brightly colored beauties stand tall in a vase arrangement or even your own flower garden. Gladiolas are a great way to add height and color to your June decor.

2. Delphinium or Larkspur


The beautiful delphinium, or larkspur, is definitely a florist's favorite. The flower has five petal-like sepals which grow together to form a hollow pocket with a spur at the end, giving the plant its name. These beautiful purple blooms can be seen wild in grasslands and beside roadways, but are becoming increasingly rare.

1. Hydrangea
Probably the favorite of all summer flowers, the hydrangea's blooms definitely have a commanding presence. Hydrangeas have two types of flower arrangements: mop-head flowers are the large round flower heads resembling pom-poms or, as the name implies, the head of a mop. In contrast, lacecap flowers bear round, flat flower heads with a center core of fertile flowers surrounded by outer rings of showy, sterile flowers.


FSN's Favorite Flower Arrangement For June
Father's Day is just around the corner. Can you believe it's here already? For all of the special things Dad has done, and will continue to do for us, isn't it time to give something in return? Sending the the Floral Felicity flower arrangement — this months favorite here at FSN — is the PERFECT gift for Father's Day. Its  bright and vivid colors are just what Dad needs to remind him how much of a shining star he is to you.
Find The Floral Felicity Arrangement on Flower Shop Network…
Funeral flowers are not what they used to be, and for good reason. We have become so accustomed to personalization, why not customize our final tribute to a lost loved one? People everywhere are opting for sympathy arrangements with a more personalized feel.
This is a great custom funeral design for someone who was known for their love of music. Perhaps they were sent by someone in a band with the deceased. What a great way to honor those memories they shared together. Custom set pieces are great to pay tribute to the deceased favorite hobby or interest.
Read More About Personalized & Creative Tribute Flowers…

---
Every week our Plant Expert answers YOUR most challenging plant care & identification questions.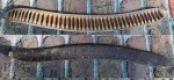 Question About A Seed Pod Found In St. Croix
I found this 18″ pod in St. Croix. Pictured is the inside & outside. Before it split open there were seeds in each of the little compartments and made a great rattle. Can anyone ID it?
Thanks. John
Our Expert's Answer
Of course we can, John! Turns out this seed pod is from the most amazing fire-orange tree, appropriately named Flamboyant Tree. Read more and see pictures of this gorgeous tree from the Caribbean in this post…
QUICK FLOWER CARE TIP
It's summer and the A/C's are ON! I love that cold breeze in my face on a hot day. Here is a tip though — don't sit your flower arrangement directly in front of an air conditioner or vent. Flowers need to be in a cool spot in your house, but leaving them in the direct path of a vent can cause them to dehydrate. Also, cut flowers need a consistent temperature to thrive, so the air conditioning going on and off will shorten their lifespan.
WE'RE SOCIAL



Love flowers? Follow us on the above Social Networks! We are always sharing the latest articles from our Bloomin' Blog, as well as the most fascinating news on the net!
---
JUST FOR FLORISTS

Design Inspiration Challenge
This month, the FSN bloggers began one of our favorite projects ever — the bi-weekly Design Inspiration Challenge. This floral design competition is not for just ANY florist. We wanted truly inspired design; thus, the Design Inspiration Challenge was born.
Every other week, we will give you something inspirational (this week's was a lesser-known van Gogh painting) and you design an arrangement using that inspiration. More about the Design Inspiration Challenge…
Increasing SEO For Your Flower Shop
SEO means Search Engine Optimization, or optimizing your flower shop's website to best be found in search engines, like Google, Bing, or Yahoo Search. Now, this may seem like a daunting task, but it's really quite easy to get started, and I bet you've already done more for SEO than you realize! More about increasing SEO for your flower shop…
Fun In The Flower Shop
Contrary to popular belief, a local florist's work can be exhausting and stressful at times, especially for the owner. When is the last time you and your great employees really cut loose and had some FUN? Research shows that the more FUN you have in your shop, the happier and more productive your employees will be. Here are a few tips you can use to shake things up a bit. More about Fun in the Flower Shop…4 Unique & Creative Vase Ideas
Are you one of the many florists who gets stuck in the hum-drum of day-to-day floral design? Do you need a little push to look outside the box for new, inspirational ideas to get the creative juices flowing? In this article, we look at quick and easy ways to give your vases a little more 'oomph,' while rediscovering your muse and encouraging new business (Who wouldn't want that!?). Read more about unique & creative vase ideas…
JUNE 2010 — FLORAL CONVENTIONS AND FLOWER SHOWS
June 10-13, 2010: The Florida State Florists Association Convention will be hosted at the Hilton St. Petersburg Bay Front Palm Beach Gardens Marriott in Palm Beach Gardens, Florida. Florists who are members, as well as non-member florists, are invited to attend.
View More Floral Conventions and Flower Show on the Calendar.
What do you think of our new monthly newsletter format? Your opinion really matters to us. With your help, we can make the FSN newsletter just what you want and need. You can drop us a note in the comment section on the blog or email us at social@flowershopnetwork.com. We can't wait to hear from you!