This month's favorite flower color is amethyst. Starting last month, we are spotlighting unique flower colors for you to use in custom flower arrangements, wedding bouquets, centerpieces and anywhere else you might need flowers. To make the colors chosen a little more interesting, we are starting with birthstone colors. Last month's was garnet, and this month it's amethyst, or purple.
Amethyst is a violet variety of quartz often used in jewelry. Amethyst occurs in primary hues from a light pinkish violet to a deep purple. Amethyst may exhibit one or both secondary hues, red and blue.
When creating a color palette for your flower arrangement or wedding bouquet, choose analogous colors to amethyst, meaning next to it on the color wheel. These include dusty pinks and mauve-ish purples. Amethyst's complement is a vibrant, bright green — a great way to make your purple flowers really POP! The tetrad and triad colors of amethyst are also easily incorporated into floral designs. The triad's turquoise and tawny-browns give this hue a surprising rustic mood. Keep these colors in mind when creating your next Amethyst purple flower arrangement or color palette.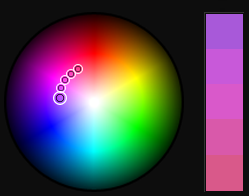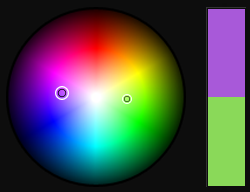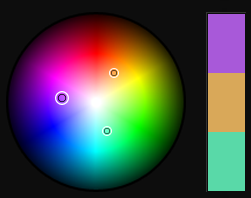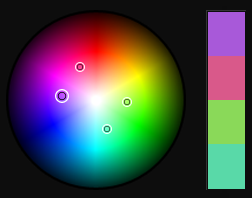 The following guide are a collection of very unique, amethyst colored flowers available from your local florists. Of course, there are also lovely purple roses, but most people know about those! This guide focuses on a purple flowers you might not think of!
This is a great flower guide for brides looking for unique color palettes and unusual flowers for their wedding.
Sea Holly (Eryngium Planum)

Sea Holly's have a very unique look and really stand out when paired with other flowers. If you are looking for something a bit exotic to add to your floral design, this is definitely a great choice!

Seasonal Availability: Year Round
Vase Life: 7-14 Days

Purple Hydrangea

A large and stunning collection of smaller purple flowers, the hydrangea is a favorite among florists. The mega flower heads can be used as is, or split up into smaller, accent flowers.

Seasonal Availability: Year Round
Vase Life: 7-10 Days

Purple Stock

Stock is a flower favorite because of it's strong fragrance. The scent is as unique and beautiful as the delicate flower itself!

Seasonal Availability: Year Round
Vase Life: 5-7 Days

Allium or Giant Onion

These giant orbs are a unique favorite amongst hippster brides. It's shape enables it to be used more creatively than normal flowers. There is a bit of an onion smell, but it will dissipate after it's been cut a while. Do not cut under hot water, it will intensify the smell.

Seasonal Availability: Year Round
Vase Life: 7-10 Days

Blue Veronica

The unique flower heads of this skinny flower are great accents when paired with larger flower types.

Seasonal Availability: Apr – Nov
Vase Life: 5-7 Days

Iris

The iris is a definite flower favorite. It reminds us of days spent in grandma's garden and can be a lovely addition to any wedding bouquet.


Seasonal Availability: Year Round
Vase Life: 5-7 Days

Agapanthus

Agapanthus is a spindly, dainty flower than looks fantastic mixed with other fresh florals.

Seasonal Availability: Apr – Dec
Vase Life: 6-10 Days

Liatris

The unique flower spikes of the Liatris open from the top down making them look as though they are bursting with color.

Seasonal Availability: Jun – Nov
Vase Life: 7-14 Days

Gladiolus

Gladiolus create lovely wedding bouquets, especially when cascading down from the bottom.

Seasonal Availability: Year Round
Vase Life: 7-14 Days

Hyacinth

Nothing screams spring like the hyacinth. They also have an amazing fragrance.

Seasonal Availability: Jan – July
Vase Life: 4-7 Days
The flowers above are all very unique and florists may not carry them in their day-to-day supplies. If you are interested in using these amethyst flowers, be sure to contact your florist in advance for their availability status. You may have to have them special ordered, but it is worth it! We've also listed the seasonal availability with each flower, this means they are more easily available during that time, and often cost less.
Here are a few amethyst floral designs to get you started:
This post was brought to you by local Fargo ND florists.
Not in North Dakota? No worries, use Flower Shop Network's handy directory of real local florists to find a florist near you!