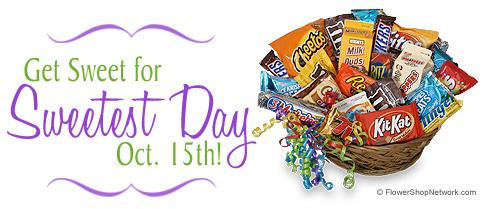 Never heard of Sweetest Day?! Well, it is a relatively new holiday, but it's a whole lot of fun! Much like Valentine's Day where you give flowers and chocolates. Except instead of giving gifts only to your significant other, for Sweetest Day you do sweet things for those sweet people in your life. (More About Sweetest Day)
We all know people who go out of their way to do wonderful things for others and never expect anything in return. Sweetest Day is THE DAY to show them how much you appreciate them.
So remember, October 15th is Sweetest Day 2011! Nothing satisfies a sweet tooth like a gift basket full of yummy snacks.