ALEXANDRITE PINK FLOWERS
June's favorite flower color is Alexandrite pink. This year, we are spotlighting unique flower colors for you to use in custom flower arrangements, wedding bouquets, centerpieces and anywhere else you might need great-looking flowers. To make the chosen colors a little more interesting, we are starting with birthstone colors. Last month's was emerald green, and this month it's Alexandrite, or light pink. (Click here for all of our color of the month posts)
The most sensational feature of the Alexandrite gemstone is its surprising ability to change its color. Purpleish in daylight, Alexandrite turns a soft shade of pink, purplish-pink or raspberry red in incandescent light. This unique optical characteristic makes it one of the most valuable gemstones of all, especially in fine qualities.
When creating your wedding bouquet,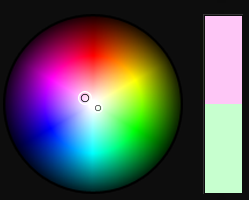 When creating a color scheme using Alexandrite pink, use the color wheel as your guide! Above you see three examples. The first is the complementary color of Alexandrite pink — pale green, which is sure to bring out the subtle tones of the pink. The second is a triad (3) of color complements to light pink. Soft yellows and pale aquas make the perfect pastel combination. You could also go with split-complement colors, meaning the two adjacent colors to the complementary color. So Alexandrite pink mixed with light green and pale aqua.
This is a great flower guide for brides looking for unique color palettes and unusual flowers for their wedding. [Read more…]