PERIDOT GREEN FLOWERS
August's favorite flower color is Peridot green. This year, we are spotlighting unique flower colors for you to use in custom flower arrangements, wedding bouquets, centerpieces and anywhere else you might need great-looking flowers. To make the chosen colors a little more interesting, we are starting with birthstone colors. This month it's Peridot, or bright green. (Click here for all of our color of the month posts)
Peridot is one of the few gemstones that only occurs in one color, green. The intensity and tint of the green, however, depends on how much iron is contained in the crystal structure. The color of individual peridot gems can vary from yellow- to olive- to brownish-green. The most valued color is a dark olive-green.
Flowers in green are just as unique and striking as the gem, this guide to green flowers will help you when choosing flowers for your events or just for fun!
When creating your wedding bouquet,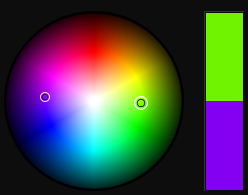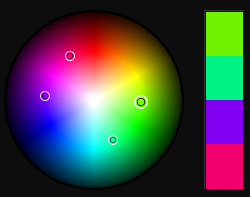 When creating a color scheme using Peridot green, use the color wheel as your guide! Above you see three examples. The first is the complementary color of Peridot green — brilliant purple, which is sure to balance out the bright green. The second is a triad (3) of color complements to light green. Electric blues and hot pinks are sure to add some fun to this combination. You could also go with  tetrad (4) of complement colors. So Peridot green, mixed with a close neighbor, aqua, and balanced with purple and hot pink.
Of course, green looks wonderful all on it's own. Mix different shades and textures of greens together to create a unique and gorgeous flower bouquet.
This is a great flower guide for brides looking for unique color palettes and unusual flowers for their wedding. [Read more…]