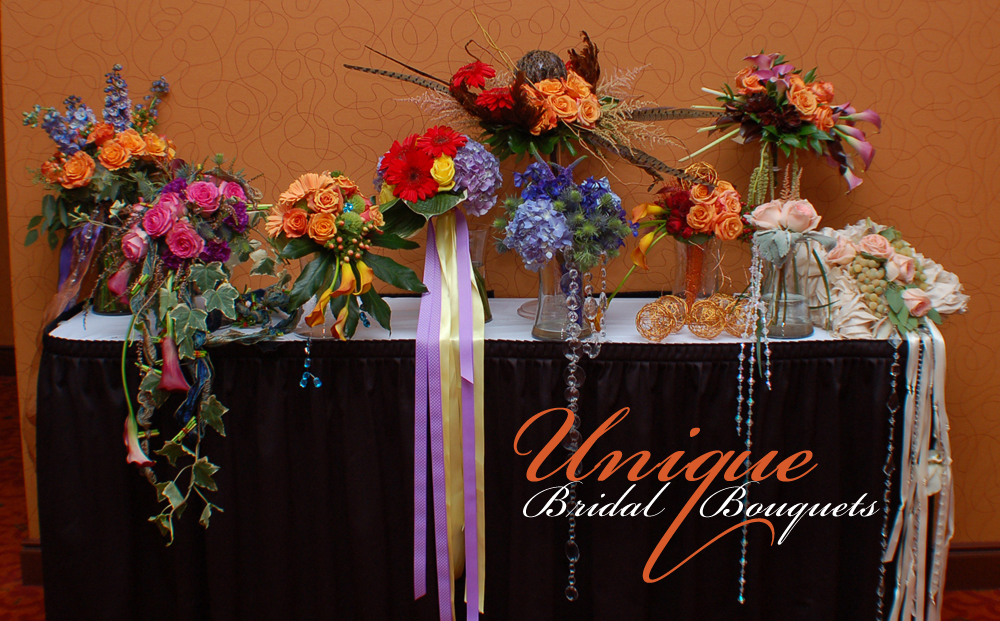 It's no secret brides are looking for something out-of-the-box when it comes to their wedding. In the last three years, traditional weddings have declined by as much as 30%. Brides are opting for more of a personal and stylish look to make their dream wedding truly unique. While most brides keep with the traditional white dress, it's the bouquet that really packs the punch of pizazz. In this article, we will show you some really unusual wedding bouquets spotted at florist conventions all across the US.
Bride's Bouquet Attention To Detail
The above bouquets are truly phenomenal because of their attention to detail and texture. The pink bouquet must be seen in full size to appreciate it's details. Sure, they are both non-traditional bouquets, but imagine just how much these would POP against a wedding dress. I'd imagine the bride with the pink bouquet would be down-to-earth and quirky with a unique style all her own. The bride with the blue bouquet would be a little more classy and sophisticated, with a bit of a wild side that loves glitz and glam.
The sky's the limit when it comes to designing your wedding bouquet. It is a way to really show your personality. If you love nature and the outdoors, tie in a few twigs and rustic elements and top it off with garden ivy. (like the pink bouquet above) Or if you love all-things-bling this blue bouquet is for you. It's rare blue color and interesting sea holly flowers just scream style, and the added trails of flashy gems put this bouquet over the top!
Unique Styles of Wedding Bouquets

With the increasing popularity of royalty (think the Royal Wedding) and anything fantasy (popular shows like Game of Thrones) scepter bouquets are just starting to be popular again. A scepter is something that can make a bride feel like the princess she is, at least for her big day. They can be dressed up with wire and ribbon, or used simply to show off the natural beauty of the flowers.
In the first photo above, you can see the purple agapanthus in a beautifully detailed nest of wire and shimmery beads. The stems have been tied together with long flowing ribbon, but the bright green is still peeking through. This is definitely a bridal bouquet fit for a princess.
In the second photo, we see a collection of deep burgundy calla bouquets tied together with glitzy gems. This simple design would be perfect for bridesmaids bouquets.
The hydrangea bouquet in the third photo has had a lot of extra details added to it. The stems have been intricately bound together with wire beads, hearts, and other trinkets. The flowers have also been enhanced by unique ribbon in a matching color. Another bouquet fit for a princess.
Other unique bouquet styles that are trendy up-and-comers:
Arm bouquets
Pomander Bouquet
Posy Drop Bouquet
Sheaf Bouquet
Composite Bouquet
Adding Interest To Wedding Bouquets
As we mentioned above, don't be afraid to add something NEW to your wedding bouquet. It's YOUR DAY, have it YOUR WAY! But do let your florist give you LOTS of input, they know best and really enjoy making unique bouquets. The above bouquets are green, which is a big trend right now with the go-green movement. Green bouquets are great for brides who are active in this green movement, but also gardeners, nature-lovers, or simply someone who loves the color green!
Monochrome – The florists who made the bouquets above have added interest by using a variety of all-green flowers, this is called a monochromatic bouquet (all one color). Using flowers that look completely different, but are the same color adds a whole lot of interest and details. The bouquet on the right side also includes succulents (sort of like a cactus) as well as kale, similar to what you'd find in the salad aisle of the grocery store!
Wire – Decorative wire has become a florist's favorite accessory. You can use it to wrap stems, make loops, and all sorts of things. In the first picture above, the florist has used wire to create shimmery green orbs for more interest in this bouquet. He has extended this feature to have small orbs cascading down the design.
Broaches & Heirlooms – It's become very trended to mix flowers with bling! Many brides are adding sparkle to their bouquets by including broaches and other jewelry in with their flowers. Using heirlooms is an excellent way to honor your heritage.
Symbolism – Talk to a florist about the best way to include items that mean a lot to you and your wedding. Perhaps there is a specific color that is symbolic, a florist will be able to show you all flowers available with those colors. Maybe you want to convey a special meaning, find flowers that are symbolic of your message.
Geometric Line – It's not very common, but if your wedding style is classic art deco or you simply love something unique, use Horsetail (Equisetum) in your wedding bouquet design! You can see how one florist used this in the third picture above. While that bouquet may be over-the-top for most, you can use it in moderation for a look that is sure to WOW.
Anything & Everything – There are no boundaries when it comes to what makes your wedding bouquet your own. If you can dream it, a florist can most-likely do it! Look at the picture above on the right, those circles used to trail down the bouquet are simply flexible strips of wood or paper that have been stapled together. You might be surprised just what is possible!
Unique Bouquet Holders
One last little detail you should not forget is your bouquet holder. For a lot of wedding bouquet styles, the holder is not seen, but if it is, step it up a notch by doing something completely unique! The above photos show a completely natural, yet oh-so-sophisticated look that would work with ANY style of bouquet or flowers. The first picture shows a woven bouquet holder and the second uses braiding techniques. These details add so much more interest to the original design.
Our sister site, Wedding & Party Network is a great place to turn to for resources when planning your wedding.
If you are planning your wedding flowers, finding the right florist is easy with Flower Shop Network. All florists in our network are real local florists.