Fall wedding flowers burst upon the scene in a kaleidoscope of colors. Paint an idyllic wedding picture on this fall's canvas when using a rich palette of the season's colors.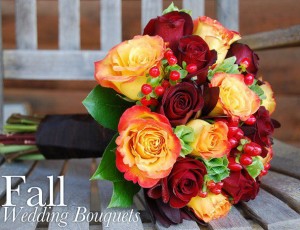 Whether the celebration takes place during the sun dappled day, or in the crisp autumn air of evening, the fall wedding introduces a season of excitement. September, October, and November bestow bright flowers and abundant foliage – just the right ingredients for a fabulous fall ceremony.
Deciding on the type of fall floral arrangements will often determine the style of wedding. Consulting a professional florist can be of invaluable help when considering the theme and cost of the wedding. Don't hesitate to convey what you envision for your wedding along with a review of your budget.
When meeting with your florist, it's wise to discuss the size and location of your wedding and reception. And, don't forget to include the number of attendants and guests. It helps if you provide your favorite wedding photographs, color preferences, and fabric samples when talking about your ceremony. A professional florist can assist in creating a plan that helps you to make informed decisions, which can save time and reduce stress.
A CORNUCOPIA OF COLORS
The fall season lends its self to vibrant colors. When selecting fall wedding flowers consider the colors of: Yellow, Gold, Bronze, Orange, Red, Dark Pink, Burgundy, Rust, Brown, Purple, Egg Plant, Green and Tan. Although the types of wedding flowers are usually chosen by the bride, the color palette of the flowers are often determined by the color of the bridesmaids' dresses.
A professional florist can explain your floral options. Discussions will include the difference between selecting flowers that are in season, as opposed to choosing flowers that are out of season. Out of season flowers increase prices significantly.
With nature's brilliant colors, here are just a few of the fall wedding flowers that are in season:
ROSES (Rosa) – Many people tend to think of roses as either traditional red or delicate pink. However, the colors of roses range from gold to chocolate. Brides may want to consider the radiant rose colors that include golden apricot, tomato-red, deep yellow, red-orange, tangerine, dark burgundy, coral-orange, burnt- orange, or chocolate brown. These striking shades make beautiful wedding bouquets, floral decorations, and arrangements.
DAISIES (Gerbera) – There are a number of varieties from a single petal to a double petal. The bright colors and varying sizes of this flower make for beautiful bouquets and eye-catching arrangements.
SLIPPER ORCHIDS (Paphiopedilum spp.) – This fall flower's colors of brownish red, green and yellow can set the seasonal tone.
CALLA LILY (Zantedeschia) – The "green goddess" has deep green leaves and generous blooms. This is a sophisticated flower that often stands on its own. Not only do calla lilies come in the traditional white, but they also come in the rich and beautiful shades of cream, yellow, burgundy, and bronze.
GLORIOSA LILIES (Gloriosa rothschildeana) – A glorious bloom that makes a bold statement. The strikingly curved petals in lustrous red will certainly turn heads.
ORIENTAL LILIES (Lilium Oriental) – Versatility is the key. Colors include white, cream, yellow and burgundy. One of the most famous hybrids is Stargazer, which has a white background with reddish/pink markings and dotted throat.
HYDRANGEAS (Hydrangea quercifolia) – The late blooming Oak Leaf Hydrangea gets its name from the shape of its large leaves. These beautiful leaves often turn colors of brilliant yellow, orange, red, and burgundy.
SUNFLOWERS (Helianthus annuus) – When you think of autumn, picture the Sunrise Sunflower. The medium short deep double yellow petals and dark center make an excellent choice for use as cut flowers that have a long vase and arrangement life.
CHRYSANTHEMUMS (Chrysanthemum indicum, Chrysanthemum x morifolium) – The word chrysanthemum is taken from the Greek, chysos (gold) and anthos (flower). This fall flower is generally found in the following forms: button, daisy, decorative and spider (or quill). The size, color, height and time of bloom make it one of the most popular fall flowers for bouquets and arrangements.
BABY'S BREATH ( Gypsophila paniculata) – This is the delicate name for the "work horse" of arrangements. Colors range from white to pink to blushed purple. Baby's breath can be coupled with flowers and greenery to create fullness and depth or stand-alone in an interesting container, or elegant vase.
THE ORNAMENTS OF AUTUMN
Fall wedding decorations can be more than colorful cut flowers. A medley of textures such as beautiful berries, fall foliage, and autumn accessories create the look of a bountiful harvest.
Consider the use of berries when decorating tables, window ledges, archways or columns.
Autumn Berries
Rusty Rose Hips
Red Nandina
Red or Black Aronia Berries
Flaming Pyracantha
Orange Pepper Berry
Orange Cotoneaster
Rustic Bittersweet Vine

Burnt Sienna Hypericum Berry
Pink Pepper Berry
Blue Privet Berry
Fall Blueberries
Green or Red Viburnum Berry
Cranberries
Cuttings from fall foliage make stunning centerpieces and arrangements.
Autumn Foliages
Red Oak Leaf Hydrangeas
Red Dogwood Branches
Red Huckleberry
"Redbore" Kale
Liquid Amber Branches
Yellow Maple
Vine Maple Branches
Eggplant Smoke Bush

Green Cherry Laurel
"Illumination" Periwinkle
"Bright Lights" Swiss Chard
"Ogon" Japanese Sweet Flag
"Yellow Ripple" English Ivy
Black-Eyed Susan Vines
Grapevines
Don't forget autumn accessories add interest.
Autumn Wedding Decorations
Apples, Pears, Persimmons, Pomegranates and Artichokes
Grains, Nuts, Melons, and Gourds
Dried Garland or Flowers
Spanish Moss

Ribbons that reinforce the color scheme
Raffia
Woven Baskets
Colorful Pottery
FALL WEDDING DECORATING TIPS
Continue an autumn atmosphere your guests will remember by considering the following areas for decoration. These locations may be enhanced by the use of flowers, berries, foliage and accessories.
THE WEDDING CEREMONY: The altar, columns, candelabra, backdrop for the ceremony, archways, podium, for Jewish weddings the chuppah, the aisle, end of pews, communion rails, vestibule, guest book table, doors leading to the sanctuary, and stair rails outside the entrance.
THE RECEPTION: The entry area, place card table, buffet table centerpieces, table arrangements, head table design, free standing decorations, candles, stage decor, wedding cake and cake table and restrooms.
The wide variety of fall wedding flowers and large array of berries, foliage and accessories make autumn a wonderful time of year for your special celebration. Whether your theme is large and elegant, or intimate and casual – let a professional florist customize an unforgettable fall wedding for you!
Photo by C & C Sensations, a local florist in Waynesboro VA.
Find a local florist to help create your fall wedding flowers.
Planning a wedding? Check out Wedding and Party Network for all of your wedding needs.