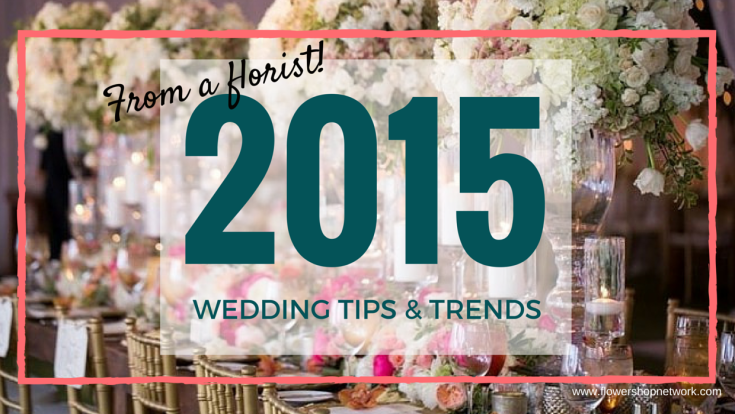 The big season for weddings has begun! With the constant change in trends, we reached out to Abigail Hitchens, owner and lead designer for Petals in Thyme of Wasaga Beach, Ontario to give us some tips and tell us what's trending this year in wedding flowers!
1. What do you see trending in weddings?
Around here we are seeing an increased use of vintage containers; mercury glass or milk glass. You can still get that rustic feeling by putting it with wood/moss elements. You can take a group of say three smaller vessels and put small designs in each to make one larger design for one table, then a larger vessel and one design on another. Variations on a theme I suppose would be the trend: creating visual interest with balance.
2. Why do you think these containers are trending?
I think every young generation is curious about the generation before them. As such, we look at articles that may inspire us from past decades and wonder what we can do to make designs and ideas new and fresh again. I think movies such as "The Great Gatsby" inspired many of our couples out of the burlap and mason jars phase into more glamorous inspired wedding, yet still containing some bohemian essence.
Having a mixture of containers creates much more visual interest. By incorporating the vintage glass, you can mix in some newer vases to get a really glam, yet eclectic feel. Some tables can be high and dramatic, others slightly more understated. Where the large designs cost more, couples can save a little on the smaller ones, yet still have the dramatic feeling.
3. Have you noticed a type of flower growing in popularity in regards to weddings?
Not really. I tend to design by color versus flower variety. Although, I have seen more Pinterest images come through my door of poppies, anemones and gypsophilia. Peonies, roses, hydrangeas, and dahlias are still the essential requests and the classics. It is our job as floral designers to inspire, teach and show each couple their options.
4. Do you see an increase in customization and personalization of bridal bouquets?
It is up to us to help make each wedding a little different for each couple–to reflect their characteristics and not our own. As such, I tend to ask them about places they have been or love to be and try to incorporate florals from those areas and memories.
For example, last year I had a bride who simply wanted soft, loose, deconstructed florals: spray roses, dahlias, garden roses, etc. I asked her when she immigrated to Canada and where she lived. She told me a farm in a rural area of Canada. How much she missed it. So of course, when the day came, I added some Ammi Major in her bouquet. She shed some tears of joy exclaiming "How did you know? I love these flowers so much! I picked them as a child when we moved to Canada, but they never last in a vase Although I wanted them, I never considered them as an addition to my bouquet!" I reminded her of our conversation when she booked her florals. She remains to this day a client always stating she couldn't believe my memory.
Taking the time to get to know our clients to allow us to customize their designs and draw their emotion is important. They will never forget the tiniest details, so neither do I.
I also see things like, adding a piece of mom's veil to the handle work, or a brooch that belonged to grandma. I also once incorporated a pair of pear earrings into a boutonniere. They belonged to mom who had passed away just weeks before the wedding, so it was a way to acknowledge her for the groom.
It is not just bridal bouquets that can be customized. Boutonnieres can be too. I have added anything from wood curls for a carpenter, a fishing lure, to computer chips for a computer tech guy. Men often associate themselves with their profession or hobby, and as such, I like to acknowledge them in any way I can.
5. What is your tip to couples who are planning their 2015 floral wedding look?
Don't underestimate the cost of flowers and try to think about booking your appointment with your florist as early as you can. Some florists offer payment plans (we do) which effectively makes your dream wedding a reality.
6. What is a tip you would give other florists working on 2015 weddings?
Every florist knows their client and I believe every region has its own sense of style. I mean, what is going on in rural Ontario is very different to the downtown core of Toronto ,which is different again to what is happening in South Carolina, USA. Here are my 3 tips:
#1 Listen
Couples will tell you what they are looking for, but they really have no idea about flowers. They know what they like, colors, and what they like to do if you ask the right questions. Listen closely to their answers in a completely non-biased way.
#2 Patience
Again, couples will tell you what they want, but they really have no idea about flowers (for the most part). It is up to us to patiently explain things, with kindness and sincerity.
#3 Use the Term 'Bridal' Sparingly
First off, I never use the term bride when talking wedding and design. I always use the term couple(s). Using the word bride turns away any men who may want to be involved in the wedding process and also any same sex couples who are looking to be married. It lessens the pool of potential wedding market. In these days of open acceptance, social media and relations, we need to be careful of the language we are using so as not to put anyone off of our products and services or offer the idea that we may be closed minded. Men are becoming much more involved in their weddings. Same sex couples can also sometimes find this term extremely excluding in nature. Wedding flowers, wedding shows, wedding bouquet–I truly believe it is important for us all to be inclusive of everyone involved in such a beautiful day as a wedding!
Thank you to Abigail Hitchens of Petals in Thyme for her great tips! For more wedding ideas and tips, visit the Bloomin' Blog!
Photo courtesy of http://www.weddingandpartynetwork.com/gallery/photo/13440/