It's a hip-hoppin', egg-cellent Easter this year with festivities lined up for everyone to enjoy. Smiles shine brightly through each activity. Waking up to Easter bunny gifts, sunrise service on Easter Sunday, watching children hunt for eggs, and the delicious Easter dinner with the family — regardless of how the holiday is spent, it is a time for reflection upon the simple pleasures in life that make friends and family such important parts of life.
Meaningful Easter Gifts Means The World To Someone
It is always exciting to receive a gift, but a meaningful gift means so much more. Gifts with a certain meaning sent by a loved one express respect, honor, love, friendship and validation. When Easter comes around this year, celebrate your loved ones by honoring them with a meaningful gift, such as Easter flowers.
Easter flowers from a local florist mark the awakening of spring and the celebration of it's most highly regarded holiday. Easter lilies are a standard gift during the Easter holiday and for good reason. Easter lilies symbolize purity and grace, which succinctly fit the meaning of Easter. Those beautiful, trumpet blooms outshine any other flowers when paired in an arrangement. Swing by your local florist on the way to the big dinner with the family and pick up a beautiful, Easter lily centerpiece. What better way to share the true meaning of the celebration with best friends than with a touching sentiment like these?
Making Easter Last With Potted Easter Plants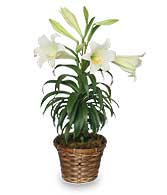 If you'd like an Easter gift that's a little more permanent, sending potted Easter flowers is a great choice! Order potted Easter lilies, potted hyacinth or daffodils. Sending potted houseplants are a great way to share your love of Easter flowers with your someone special.
Sending flowers through a real local florist is the best way to send Easter gifts to loved ones far away. So, share some love with grandma, one state over, by sending Easter flowers through your local florist.

Don't know your local florist? Get connected with Flower Shop Network!