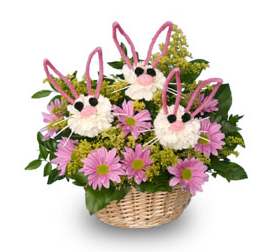 Some-Bunny Loves You Is Perfect for Easter!

FOR THE KIDS Easter is fast approaching! Kids everywhere are jumping for joy at the idea of getting oodles of candy from the Easter Bunny! Perhaps this year, the Easter Bunny will include this basket of bunnies just for your little tykes. This is a fantastic and fun way to incorporate the spirit of springtime in with the normal candy and goodies given at Easter.
FOR THE FAMILY Have you made your Easter plans yet? Most people spend Easter Day eating a yummy dinner in the company of family. Spread the Easter spirit by bringing this adorable flower arrangement to your dinner. Use just as decoration, or set it out as a darling little centerpiece. These bunnies will get everyone in the Easter spirit — Just in time to hide some eggs!
LONG-DISTANCE FAMILY If you live too far away to enjoy Easter dinner with the family, send this trio of funny bunnies to be there instead. Your family will delight in the presence of little bunnies poking out of the springtime daisies.
You Might Also Like:
Easter Card Messages
Reverent or Whimsical, Easter Card Messages Say It All
This post is brought to you by Barre VT florists.

Not in Vermont? No worries, use Flower Shop Network to find your real local florist!