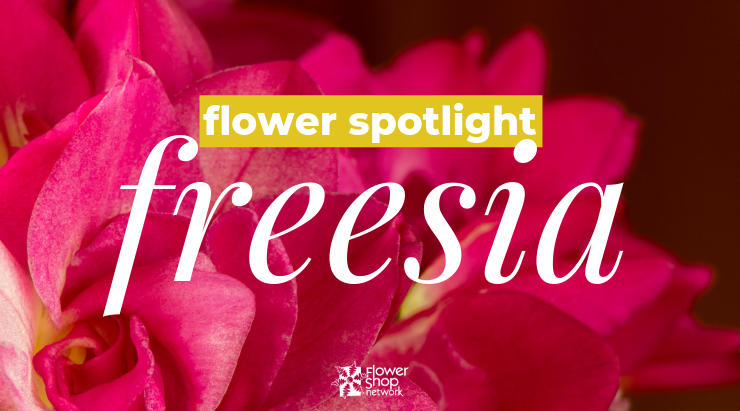 With its sweet fragrance and colorful look, this flower is perfect for weddings, showing friendship, and making any arrangement gorgeous. Learn more about the history and meaning behind the freesia flower.
Named after two botanist friends, Christian P. Ecklon and Friedrich H. T. Freese, this beautiful flower was discovered in South Africa. There are about 14 different species of freesia across the globe. This gorgeous flower, when growing in its original environment, is a spring flower, but it's always seasonal when florists use them. The first freesias used in arrangements were white and yellow, but thanks to cultivation there are now freesias of all colors!
This flower has grown in popularity, especially around wedding season. In the 1950s, more and more brides wanted this delicate flower in their wedding bouquets. Ever since then, it has been a part of weddings to mark purity and trust that is formed by the union of marriage.
There are several meanings for the freesia flower:
Innocence
Purity
Friendship
Sweetness

Adding freesias to your arrangement will bring a sweet scent. However, each color can symbolize a different meaning. So, before you send that beautiful arrangement know what you are trying to say.
Pink – If you are thinking about what kind of flowers to put in a Mother's Day arrangement, pink freesias are a perfect choice! They symbolize motherly love.
White – As mentioned before, some freesias are used for weddings. The freesias used for weddings are usually white because they symbolize innocence and purity.
Yellow – Are you sending an arrangement to a friend? Then you might want to add yellow freesias because they symbolize friendship and joy.
Red – You might consider sending red freesias to a crush or someone you are in love with. Red freesias symbolize passion!
Freesias are an exquisite and beautiful flower that will add elegance and a sweet scent to any arrangement. If you are getting married soon, you might consider adding this amazing flower to your bouquet.
Ready to order a beautiful arrangement?