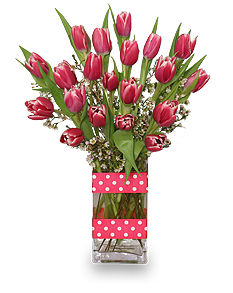 Missing your honey? It's always tough to be apart, especially if you're in a long distance relationship. These days, more and more people are meeting online, and connecting in new ways: video chat, text messaging, instant messenger, Facebook, SecondLife, the list goes on and on. Even with all of that, nothing beats a tangible show of love and affection.
So, how do you spice up a long distance relationship?
That's easy! Do something completely romantic to show your long-distance-sweetie they are constantly on your mind. No one makes it easier than a local florist! Easily have flowers delivered to your sweetheart at their home or even at the office. Flowers never fail to bring romance and happiness to whomever receives them. Send the above bouquet, Kissable Tulips, across the long distance, with a message that reads:
"Let These Tulips Suffice Until My Lips Can Touch Yours…"
There is nothing more beautiful than fresh flowers, and your beloved will be overjoyed. Even though you can't be there physically, it's always good to remind her of your presence. If you are coming in for a visit, send flowers a week before so she can think of you every day in anticipation.
What's the best way to send flowers in a long distance relationship?
When sending flowers, it's always better to send from a real local florist, but whatever you do, don't send cheap flowers that come in a box. No girl want's to receive flowers and have to assemble them herself! The best way to send flowers is to use Flower Shop Network's directory that connects you to a real florist in your sweetie's town or city.
Related Articles:
Romantic Card Messages
Top 5 Reasons To Send Flowers Just Because
Why Men Should Send Women Flowers
How To Surprise Your Sweetie With A Romantic Weekend
This post is brought to you by local Aberdeen, SD florists.
Not in South Dakota? No worries, use Flower Shop Network's handy directory of local florists to find a florist near you.