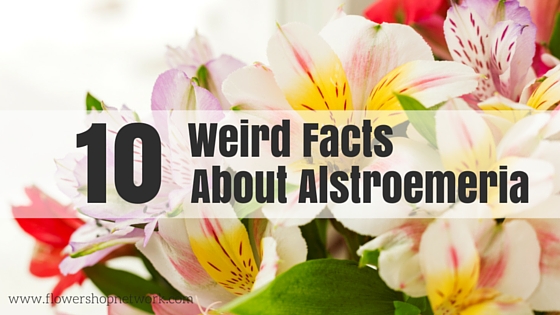 We see alstroemeria in flower arrangements all the time. Their beautiful striped petals have a special way of lighting up a room! There are some weird facts about this flower that make it extremely unique. Keep reading to find out, you might be surprised at what you learn!
1. Alstroemeria is commonly called the Peruvian Lily,  Lily of the Incas or the Parrot Lily.
2. Not all Alstroemeria have striped petals.

3. Alstroemeria is a symbol of wealth, prosperity and good fortune!
4. Alstroemeria stops producing flowers if they get too hot.
5. Alstroemeria flowers have no fragrance. (Great flower if you have any pollen allergies!)
6. There are about 50 species of alstroemeria.
7. The flower is named after the Swedish botanist Baron Klas Van Alstroemer who collected the seeds on a trip to Spain in 1783.