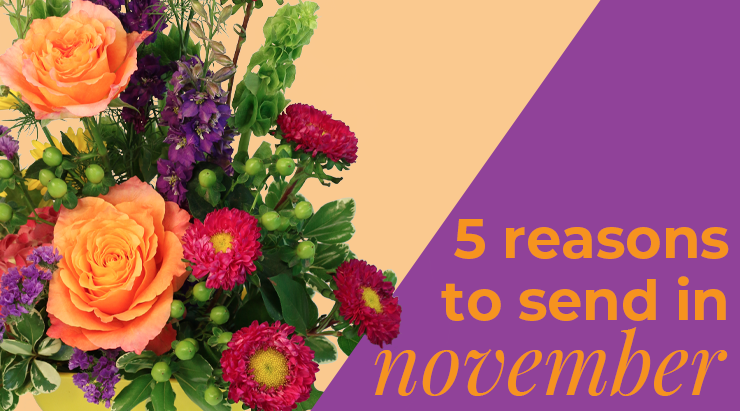 Thanksgiving isn't the only holiday this month that offers a perfect opportunity to send flowers! Check out our five reasons to send in November.
Nov 5- National Redhead Day
This is the perfect reason to celebrate the redhead in your life! Less than 2% of the world's population have red locks, so send flowers to your rare friend on their day to shine.
Nov 10- International Accounting Day
Accountants are there to keep your finances in perfect order, so this is the perfect day to send them something to show your appreciation for all they do for you.
Nov 11- Veterans Day
Pay tribute to the veterans you know with flowers. This is the day to honor those who have served in the United States military. They have given so much for their country, so show your gratitude to them on this holiday.
Nov 13- World Kindness Day
Take time on World Kindness Day to do something positive for someone you care about! Send flowers to someone you know is having a rough time, and show them you're there for them. They'll love this small, kind gesture.
Nov 19- National Entrepreneur's Day
Entrepreneurs have worked hard to build their businesses from the ground up. Show them some love for all of their hard work by sending them some flowers on this day!
Sending flowers for Thanksgiving is always a great option, but don't think that it's the only reason to send flowers this month! No matter what reason you choose, contact your local florist for a beautiful arrangement that is certain to bring smiles.