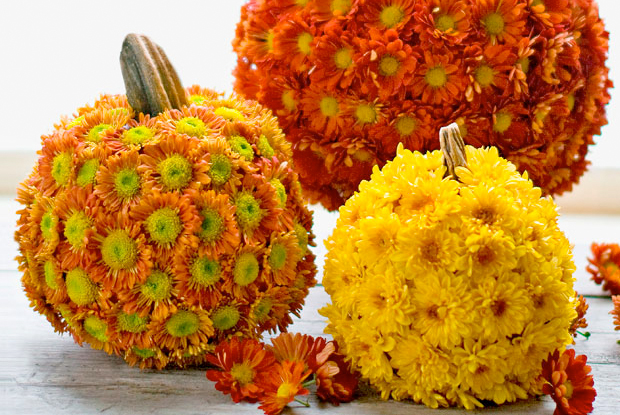 During Halloween, jack-o-lanterns are on doorsteps everywhere! While pumpkins are typically used for Halloween, they are also great for fall and Thanksgiving decor! (Just without the faces.)
We spotted this adorable pumpkin decor idea and had to share: Mumkins! You know we love it because it mixes chrysanthemums with this iconic Halloween/Fall/Thanksgiving symbol.
Creating a mumkin is easy!
Step 1: Use an awl or ice pick to poke holes, approximately 1/2″ apart, around the entire pumpkin.
Step 2: Cut blooms with 2″ to 3″ stems off the plants. Strip leaves from the stems. (Larger pumpkins will need around 120 blooms to completely cover them; smaller pumpkins need about 100 blooms.)
Step 3: Stick blooms in the holes. The moisture from the pumpkin flesh will keep your "mumkin" looking good for 3 to 4 days.
Create mumkins out of several sized pumpkins for great table decor.