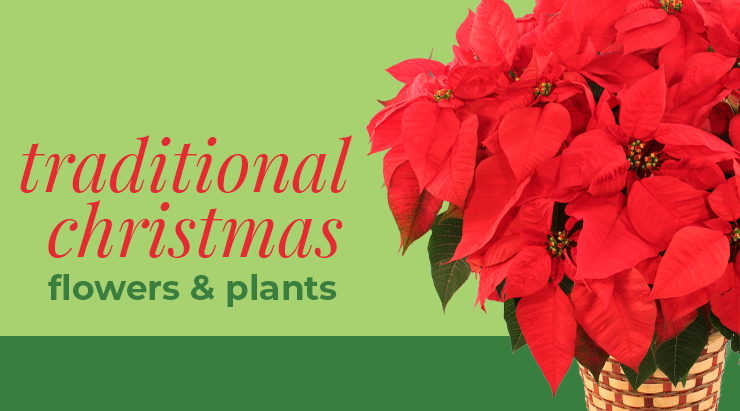 Whether it's going to see The Nutcracker together or opening a gift a day early, Christmas traditions are important for every family who celebrates the holiday. Traditions are the way of Christmastime, even with flowers! Celebrate Christmas this year by sending flowers traditionally associated with Christmas.
Poinsettia
With their bright red coloring, poinsettias are the most traditional of all Christmas plants and flowers. Their association with the holiday is due to a Mexican legend. In this story, a poor girl gathered weeds from the side of the road to bring to a Christmas church service as a gift for Jesus. A miracle occurred as she walked down the aisle of the church—her weeds transformed into bright red flowers! In Mexico, poinsettias have been known as Flores de Noche Buena, or Flowers of the Holy Night, ever since.
Amaryllis
These tall, sturdy flowers became popular for Christmas during Victorian times. They came to symbolize strength and determination, and have continued to be a popular flower in the winter months since they bloom well indoors. Amaryllis are available in a variety of colors, but to promote the Christmas spirit, send them in bright reds and whites.

Roses
Red roses are traditionally thought of as romantic flowers, but during the Christmas season, they are associated with the blood of Christ. White roses are a symbol of peace and purity, adding a perfect touch of winter to your flower arrangement. Pair roses with either rustic accents like pinecones or a little glitz and glitter for a truly stunning Christmas arrangement that anyone would be proud to receive.
Mistletoe
Mistletoe is, of course, required for all holiday gatherings. Hang it on a doorframe and let the romantic moments begin! It's a symbol of peace, love, and goodwill, and is a staple for Christmas celebrations.
White Lilies
White lilies are traditionally associated with the Virgin Mary, and they also signify peace, hope, and spirit. This makes them a perfect addition to your Christmas flowers! Go for an all-white look to really amp up that snowy winter wonderland feeling.
Any flowers you send this Christmas will be a gift to remember. Find the perfect Christmas flowers from a local florist!