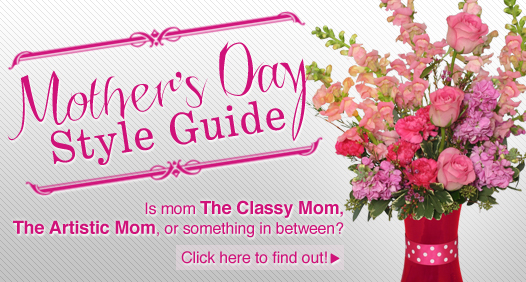 Mother's Day is May 13th!



Still deciding what you should get Mom this Mother's Day? Here's a tip: you can't go wrong with flowers! Flowers are the traditional gift of love and thankfulness, and what better emotions to send to mom on her special day? Now, just what type of flowers should you send? That's easy! Check out our Mother's Day Style Guide for flowers. Here you will find great arrangement ideas to match any mom's personality and style! Is your mom The Classy Mom? The Artistic Mom? Or something in between? Find out now!
---
Prom Inspiration: Fun & Funky Style [Pics!]



Although for most, prom has come and gone, still teenaged girls everywhere are planning their ensembles for next season. We had the wonderful opportunity to meet up with a group of teens right before prom and snap some photos. So enjoy all the craziness and color of prom 2012!
See More Prom Inspiration Pictures!

---
Show Your GRAD They're RAD — Send Flowers!

What better what to say, "I'm so proud of you" for all of your Grad's hard work than by sending graduation flowers? Sure, it may sound cliche, but seriously, a reminder to stop and smell the roses couldn't come at a better time.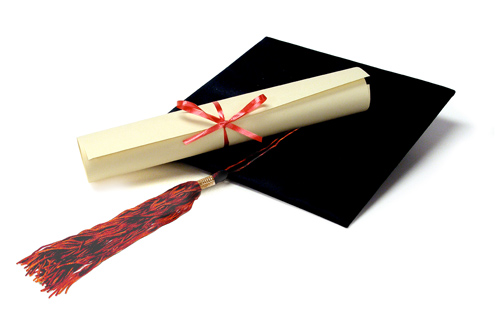 Flowers Congratulate – The gift of flowers is a tried and true tradition that dates back probably as long as humans and flowers have been together. A beautiful flower is like nature's gift we have all won and deserve in our own ways. A graduate, for all their hard work, deserves the best nature has to offer!
Flowers Keep Things Simple – Flowers remind us of the beauty of nature and really keep us grounded as we go through times that may be overwhelming, such as graduating. Research shows flowers have an immediate impact on happiness and long-term effects on positive moods.
Flowers Keep Us Going – We all know flowers will eventually wilt, however this reminds us of the brevity in life. We must stay proactive in order to flourish, and that's the only way to make the most of yourself.
Include This Graduation Card Message:
A beautiful flower is like nature's gift we've all won and deserve in our own ways. As a graduate, you deserve only the best for all of your hard work and dedication. Life has a lot in store for you, but no matter where your like may take you, never forget the beauty of a flower. Flowers spring up and bloom for our pleasure every year, and although they may fade, just wait a while and their vivid beauty will return again. No matter what you are going through in life, stay proactive. Continue to flourish and you will truly make the most of yourself.
---
Facebook Friday March Favorites

We recently started a Friday recap of all the wonderful posts and pictures from active florists on our Facebook Page. It's been so much fun seeing all the completely different designs every day. We hope you enjoy these favorites and continue through to see more from each Friday this month:
| | | |
| --- | --- | --- |
| Platte Flower Shoppe, Platte SD | Kim's Secret Garden Florist, Edenton NC | Monday Morning Flowers, Princeton NJ |
| Swannanoa Flowers, Swannanoa NC | Forget Me Not Florist, Northampton MA | Crossroads Florist, Mahwah NJ |
See all Facebook Friday pictures in these posts:
---
Get the Most Out of Your Flowers for Mother′s Day



We understand you want to give mom the very best on her special day. Here are some tips to make sure you get the most out of your Mother's Day flower order.

Shop Local For Mothers Day
When it comes to Mother's Day flowers, you want to make sure you get the best blooms for your buck – in other words, the total value of your order. Be aware of middle-men out there who pose as local florists (especially on the internet), take a sizable cut out of your order and pass it along to your local florist to fill at a lower price. Avoid this by making sure you are able to find a real address and phone number for the florist you use. Contacting your local florist ensures you get the total value for the price you pay.
Order Early
(It's getting close, so order now!) To get the best flowers for Mother's Day, it's important order as early as you can. This will ensure the florist uses the most beautiful flowers and delivers the order on time. They will be able to special order any flowers or accessories you might request.
However, if you're running behind, most florists will still take orders all the way up to, or at least the day before, Mother's Day. Also, florists stock their coolers with extra arrangements for walk-in purchases, but it is still better to order early.
Choose the Right Flowers For Mom
When it comes to choosing the right flowers for mom, try to match her personality. You can usually tell your florist a little bit about your mom, and they can create something uniquely special just for her. If you know your mom's favorite flower, make sure to include it in the arrangement. You should also have a loving card message ready to make it more personal than just, "Happy Mother's Day."
Double Check All Info
Before the order is complete, make sure you have provided your florist with mom's accurate name, address and phone number. If the flowers are being delivered to a business or hospital, more information, such as department, work hours, floor, room number, etc., may be required.
By following these steps, you can ensure Mom gets a personalized, loving bouquet of flowers made especially for her.
---
Flower Ideas For May Birthdays
You can never go wrong sending flowers to someone on their birthday. Gazing at beautiful flowers will create sweet birthday memories to hold close to heart. Especially if your recipient works at a desk job. There's nothing better than having your beautiful birthday gift greet you with it's vibrant colors every morning when you walk into your office. It's like celebrating a birthday week instead of just a birthday!
April showers bring May flowers, so for a May birthday, flowers are especially sweet. With all of the storms we've had in April, May birthday-babies are in need of something bright and cheerful! Send a bouquet of warm summer flowers to brighten their day.
Continue reading for more May Birthday Ideas
---
WE'RE SOCIAL!








Love flowers? Follow us on the above Social Networks! We are always sharing the latest articles from our Bloomin' Blog, as well as the most fascinating news on the net!
You Might Also Like



25 Ways Flower Shops Can Recycle For Earth Day
I know Earth Day is over now, but these are great tips flower shops can use ALL YEAR! Everything we have has come from the earth: the wood in our houses, the water in our coffee, the food we're eating for lunch, and so much more. Isn't it our time to give back?
New Flower Shop Brings More Than Flowers
There's a new florist in town, Bryant Arkansas that is.This isn't your typical flower shop. With it's tall, black ceilings, stained floors, vivid color scheme and cozy lighting, it's easy to see what makes it so different. Monroe Cranford, owner and high-end floral designer, has spent years mastering his craft and is now ready to show the city of Bryant just what's possible in the world of floral design.
Breaking The Mold in Your Floral Designs [Video]
Robbin Yelverton is BACK with even more wise words for us flower lovers! Sometimes when things around the flower shop are hectic, it's easy to fall into the slump of creating the same types of arrangements over and over again. Well, it's time to BREAK THE MOLD!
5 Ways You Can Ensure Your Business Visibility Online
Trust is a major component of the formula used by search engines. As a result, search engines look for consistency when evaluating your business on the web. Consistency in your NAP info (Name, Address and Phone number) is a critical component in establishing this trust.
Help make Flower Shop Network's monthly newsletter even better! Got questions? Have an idea for a story? With your help, we can make the FSN newsletter just what you want and need. You can drop us a note in the comment section on the blog or email us at social@flowershopnetwork.com. We can't wait to hear from you!