Ask The Expert: To cut or not to cut I ask??!
My plant (do not know the name I think it's in the palm tree family) is reaching my 10″ vaulted ceiling however, it's bending and very weak. To help support it I used string and thumbtacks and tacked it to the wall. Should I cut the top off? If it is top heavy is it okay to cut? The bark if you would or trunks are thin. Is there a way to help thicken them up? While viewing the photos if you have any advice on this plant I will Thank You in advance.
Hailey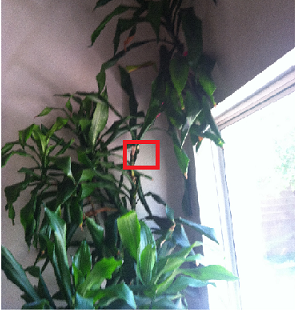 Plant Expert Reply:
Hailey,
You have a very large Dracaena. Yes it is in need of a trim to keep it healthy inside your home.
I took the liberty of altering your photo to show where you can top your plant. If you look at the picture to the right you will see a red box highlighting part of the Dracaena stem. Any where along this stem you can cut the top off the plant. Be sure you cut the stem at a 45 degree angle. This will ensure that the plant will heal correctly with little to no dieback. I like to mist the cut area for a couple days to allow the cut to dry out slowly. Mist it with luke warm water once a day.
You can take the piece you cut off and start a new plant. To do this you will need some rooting hormone. When you cut the top off dip the cut end into the rooting hormone and then stick it into a pot with moist soil. In a few weeks the piece you cut off will form roots thus giving you a new plant.
The old plant most likely will form new growth on the side of the stem where you made the cut. Good Luck and let me know how it does.